click to enlarge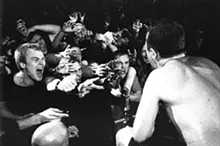 Screaming fans provide one form of therapy for Metallica, but it wasn't enough to keep the band from near-implosion.

Just plain heavy
By Gilbert Garcia

Metallica unloads the baggage of 20 years as metal legends
Some art forms are about control, and some are about collaboration. Writing and painting are basically solitary pursuits whose appeal is that they allow you to create without having to answer to anyone else. Music and filmmaking, on the other hand, usually demand a willingness to surrender your own vision to the greater possibilities of a team effort.
These issues have rarely been explored with the candor found in Metallica: Some Kind of Monster, a documentary by Bruce Sinofsky and Joe Berlinger that captures a heavy-metal juggernaut at a point of emotional and creative crisis. Metallica's leaders - singer/guitarist James Hetfield and drummer Lars Ulrich - tightly controlled the group's music for nearly two decades, dictating what material the group recorded, and how each part was played. In the case of bassist Jason Newsted, they even restricted his attempts to make music outside the band, finally resulting in his bitter departure in 2001.
click to enlarge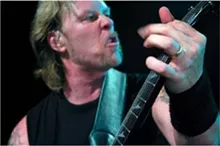 James Hetfield, newly sober and on camera.


Maybe because the group was reeling from the loss of Newsted, or maybe because they no longer had the energy to maintain their old Spartan ruthlessness, they allowed Sinofsky and Berlinger - makers of the acclaimed films Brothers Keeper and Paradise Lost, access to their breakdown. They allowed them to capture tortured therapy sessions with "performance enhancement coach" Phil Towle and dispiriting recording sessions at The Presidio, the stark military base in San Francisco where the group chose to make their St. Anger album.

Although Sinofsky and Berlinger were initially hired to shoot two extended infomercials as promotional tools for the album, Sinofsky says they instantly realized that they were on to something much bigger.

"Day one was a therapy session with the biggest heavy metal band on the planet," he says. "We're sitting in a group-therapy session at the hotel and we're filming it for about four or five hours and it was very revealing and very personal.

"To this day, I'm not sure exactly why they let us in there, because if you know enough about Metallica, you know that they're control freaks. But I think they were comfortable with it. I think they'd reached a point where they were in crisis, approaching middle age, and they'd decided they were going to bare all, they were going to open themselves up to their fans, and, ultimately, to strangers. I think they felt when the film was done that its message says, 'If you need help, if you need therapy, if you need some way to deal with your angst, it's OK to search for it and find it.'"

It's no coincidence that St. Anger also marked the first time that Hetfield and Ulrich gave up control of the group's music.


It's no coincidence that St. Anger also marked the first time that Hetfield and Ulrich gave up control of the group's music, going into the studio with no ideas, and allowing songs to grow out of spontaneous jams with lead guitarist Kirk Hammett and producer Bob Rock (who filled in on bass). Over the course of the film, you constantly see control shifting - from the band to Towle and back again, from Hetfield to Ulrich, from the band to the filmmakers - and trust slowly emerging. You also see Hetfield come to the realization that the obsessive control that made him a successful musician also made him into a stunted human being.

After Hetfield and Ulrich argue over a drum part, Hetfield walks out, enters an alcohol-rehab program, and does not return for 11 months. In the meantime, both the band and the filmmakers drift through a painful uncertainty.

"They thought it may be the end of the band, and we thought it may be the end of the band and the end of the film," Sinofsky says. "Because if James hadn't come back to the band, there was no real film."

click to enlarge
Lead guitarist Kirk Hammett was one of the other three members of the band left hanging when James Hetfield walked out for 10 months of alchohol rehabilitation.


Some Kind of Monster documents a newly sober Hetfield's awkward return at a band meeting in which he expresses concerns about the obtrusiveness of the film project. Sinofsky and Berlinger win his trust by voluntarily agreeing to step aside.

"When Joe and I had that meeting with the band, we decided to let James know that we didn't want to get in the way of the music, and if we did get in the way of the music, we'd walk away," Sinofsky says. "Also, if we're not going to get access to the band and get that comfort and trust, we'd walk away because we have a certain quality in our films and we don't want to put out a film that doesn't have that integrity that we're known for. And I think he respected that."

After seeing rough footage, Hetfield embraced the project and actually encouraged the documentarians to "go deeper." But Hetfield and Ulrich continued to squabble, with Hetfield insisting that he could only work four hours a day - which Ulrich understood - and trying to prevent the rest of the band from even listening to playbacks while he was gone - which Ulrich didn't understand.

The film's climax comes when an exasperated Ulrich unloads on Hetfield, a tirade that comprises about five minutes of the final cut, but which actually spanned three hours. "It was 20 years of venom, 20 years of emotion spewing out all at once. He finally had the strength to express what he'd been feeling," Sinofsky says.

Metallica: Some Kind of Monster

Dir. Joe Berlinger and Bruce Sinofsky (NR)


"James said later that if it would have been anyone else but Lars - because Lars has earned the right to say that - he would have clocked them. But he said a lot of it was true and he needed to hear it."

Even in this era of reality television, when people expose their most intimate secrets for sport, Some Kind of Monster is remarkable for the depth of its revelations, and the willingness of its (mega-famous, mega-rich) subjects to be seen in a potentially unflattering light.

"Ten years ago, this film couldn't have been made," Sinofsky says. "I don't want to say that this is a new-age rockumentary, because it isn't. But now is a time when people are accepting therapy much more readily than they did 10 years ago. This sort of turns the whole rockumentary genre on its ear to a certain degree, because no other band has ever allowed themselves to be seen this way." •