Latin Jazz Messenger
By Alejandro Pérez
click to enlarge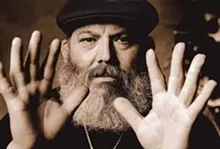 Poncho Sanchez: paying tribute to his soul roots on Out of Sight


Conga master Poncho Sanchez gets funky on new release

The first time you play Out of Sight you're instantly hooked - and a bit baffled, because you have no idea what all the fuss is about. From the very first notes of Poncho Sanchez's new album just about to its end, the disc sounds, well, out of sight: funky, in a James Brown, Motown-meets-motuno sort of way. And then you remember this is Poncho Sanchez, the Latin Jazz great best known for his conga playing and Afro-Cuban beats.

What's he doing on this album? Did you accidentally switch labels with some vintage soul reissue? While you're wrestling with that one, you hit play again, and then again, and before you know it, you've spun the album nonstop at home and in the car; you're humming the tunes in the shower, grooving to them behind your steering wheel and you realize, man, he's pulled it off.

Musica es musica, and the young Sanchez loved it all. Whether it was the big-band jazz of Count Basie and Duke Ellington, the first wave of mambo and chachacha coming out of both Mexico City and New York, the Tex-Mex sounds of Little Joe and Sunny and the Sunliners, or even the traditional norteño and mariachi his folks listened to, "I was just diggin' it," he explains, in his laid-back, SoCal cool sort of way. "It all came together in my house."

click to enlarge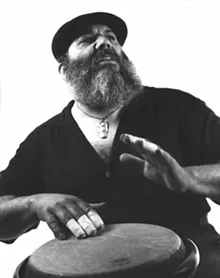 In high school during the '60s, Sanchez started out singing soul staples (and imitating James Brown's dance moves while onstage) prior to making his mark as a world-famous congüero. Throughout his quarter-century professional career, he's flirted with a combination of R&B and Caribbean rhythms rooted in the genre - the short-lived but immensely popular boogaloo may be poised for a comeback, thanks to Sanchez - but Out of Sight is his funkiest album yet. Don't think of the disc as a departure from his usual form. It's more accurate to consider it an indulgence in what he loves. After all, he's done all this before - this is just the first time he's been able to devote a whole album to it.

Sanchez says that when he approached the people at Concord Records, his longtime label, they told him to go for it. They even offered to contact Ray Charles, one of Sanchez' idols, to sing the conga player's take on "Mary Ann." ("You ain't gonna get a no from me," Sanchez laughs.) Sam Moore, of Sam & Dave fame (another group Sanchez remembers from high school), trades vocals with Sanchez on the groovin' "Hitch It to the Horse." "He came in sounding just as good as ever," Sanchez recalls. James Brown veterans Pee Wee Ellis, on tenor sax, and Fred Wesley, on trombone, join bandmember David Torres on Hammond B-3 organ to round out the soulful "Horse." Ellis and Wesley come back for more on "Mary Ann," before shining on the back-to-back "JB's Strut" and "Out of Sight": a Sanchez homage followed by a classic cover in the fullest spirit of the original.

Poncho Sanchez
with
Henry Brun
& the Jazz Playerz

7pm
Saturday, March 20
$15-30
Laurie Auditorium
Trinity University
715 Stadium Dr.
999-8313

Current
Choice
℘

While Sanchez' appreciation of soul takes center stage throughout Out of Sight, Latin Jazz, in all its permutations, serves as the foundation of his work. A few years ago, the magazine Jazz Times, in a bit of headline hyperbole, proclaimed Sanchez the "new king of Latin Jazz!" Certainly, in terms of popular and critical acclaim, Sanchez has reached a place shared by few other musicians across the spectrum. He's now able to propose what some might have viewed as a risky, genre-defying labor of love, knowing that his label will agree to it, his fan base will support him, and he may even pick up some new listeners along the way. (Ironically, a recent "greatest-hits" compilation, perhaps capitalizing on the crossover popularity of Latin rhythms, featured stylistically-rendered drawings of dancers on its cover, not Sanchez' familiar bearded mug.)

Regardless, the declaration riled more than a few feathers. Perhaps it was Sanchez' decidedly non-traditional approach to a musical genre which has always been about innovation and experimentation; maybe it's because there remain some lingering doubts about whether a Chicano can do the genre justice. (Still, times have changed, he explains. When he first started playing congas he vainly tried to join a group of Puerto Rican and Cuban percussionists who jammed in a local park every Sunday. First they told him that Chicanos couldn't play conga. Finally, one of the guys who had seen Sanchez play invited him into the circle. He took a solo, turned it around, and earned their respect. Surprised, one of the guys inquired, "Oye, tu padre era de Cuba o qué?")

Humbly, Sanchez downplays the title's significance. "There's many kings," he says, in recognition of the other greats active today, as well as those who have passed on, like the legendary Tito Puente, Cal Tjader, his mentor, and Mongo Santamaria, his hero. "I'm more of a messenger, man." • ` By Alejandro Pérez `




Support Local Journalism.
Join the San Antonio Current Press Club

Local journalism is information. Information is power. And we believe everyone deserves access to accurate independent coverage of their community and state. Our readers helped us continue this coverage in 2020, and we are so grateful for the support.

Help us keep this coverage going in 2021. Whether it's a one-time acknowledgement of this article or an ongoing membership pledge, your support goes to local-based reporting from our small but mighty team.

Join the San Antonio Press Club for as little as $5 a month.
Read the Digital Print Issue
June 16, 2021
Newsletters
Join SA Current Newsletters
Sign Up Now
Subscribe now to get the latest news delivered right to your inbox.