Lobbyists: Advocates or influence peddlers?
Lobbyist is a dirty word. Such a dirty word that nobody wants to be own up to being one.
"The City refers to what we do as lobbying," says David Earl, one of San Antonio's most recognized you-know-whats who primarily represents developers regarding land use and water rights. "It's not normally how I refer to myself. I'd rather be identified as an attorney."
click to enlarge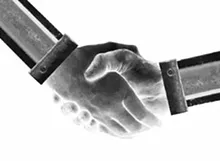 "I am not traditionally known as a developer's lobbyist," says Frank Burney of Martin, Drought, and Torres, as if a pecking order exists even within the lobbying world. "I represent homeowners' associations and the environmental movement; it's wide-ranging."
"I don't consider myself a lobbyist," says Richard Alles, whose sole client is Aquifer Guardians in Urban Areas, a group that dukes it out over environmental protection with developers, many of them on Earl's extensive client list. "I don't think I'm perceived as one.
But according to the rules, I have to register as one."
Although City Council passed an ethics ordinance to ostensibly clear the cloudy waters of lobbying, murkiness remains. Registered lobbyists are paid by their clients to advocate for public policy matters. In addition to registered lobbyists, other influential groups including trade associations, previous Councilmembers, and citizens' groups haunt City Hall in search of an ear to bend.
click to enlarge
David Earle


As reluctant as some lobbyists are to acknowledge their profession, Councilmembers and some lobbyists also pooh-pooh lobbyists' overt influence at City Hall - despite the list of clients whose profitable causes have benefited from their hired guns: Lumbermen's PGA project was rammed through by Kaufman and Associates; Terramark's Houston-based lobbyist Allen, Boone, Humphries, and Robinson sliced the development company a large part of the South Side pie; and Faulkner USA, represented by Baltazar Serna Jr., won the contract to build the Convention Center Hotel.
"`The influence` is immensely overstated," says Earl. "What does influence mean? The media makes it sound bad. But who speaks on behalf of the landowner?"
Critics argue that more people are speaking for landowners than for regular citizens without the resources to pay lobbyists; taking up those causes are citizens' groups such as Save Our Aquifer, Smart GrowthSA, COPS/Metro Alliance, and the Esperanza Peace & Justice Center.
"Every citizen should have influence at City Hall," says District 1 Councilman Roger Flores Jr. "But it doesn't work that way because we have folks motivated by financial incentives."
Earl, whose firm Earl & Associates, lists 160 clients ranging from developer Gordon Hartmann to the City of Helotes, says his job is to ensure Council "hears the other side of the story" than that of City staff. Should the City turn a deaf ear to his argument, Earl removes the issue from City Hall and takes it into the courtroom. "We try to find common ground," says Earl. "The next step is litigation, which we do quite often. We don't just deal with politics; we deal with the law. We sue the city."
Web resources for City lobbyists and ethics codes

• Find a list of registered lobbyists: sanantonio.gov/clerk/ethics

• Read the ethics code, a lobbyist definition, and previous opinions by the Ethics Review Board sanantonio.gov/atty/ethics

• To register an ethics complaint, call Ethics Supervisor Mary Lou Rodriguez at 207-6993 or e-mail MaryLouR@sanantonio.gov. The Ethics Compliance Officer is City Attorney Andrew Martin; he is assisted by Assistant City Attorney Helen Valkavich, 207-8940 or helenv@sanantonio.gov

• The Ethics Review Board reviews only alleged violations of the City's ethics ordinance. The State Ethics Commission reviews alleged violations of state election and campaign laws: ethics.state.tx.us

That tactic has backfired with District 10 Councilman Chip Haass. "As far as I can tell, he's lost his credibility. If somebody wants to work with me on one issue and on another is suing me, maybe that's business, but it's disappointing to me."
An outsider in the lobbying world, Alles says he doesn't have equal access to Staff and Council as his fellow large-firm lobbyists. "They really have influence. People like David Earl and Ken Brown are very experienced at what they do and are paid very well for it. Just observing what goes on in City Hall, I see these lobbyists talking with Staff and Council frequently."
Under the City's ethics rules, registered lobbyists (see box, this page) pay $300 annually - up to $1,200 maximum for multi-person teams - and must submit quarterly reports to the Ethics Supervisor that describe with whom they've met, why, on behalf of which clients.
Ethics Review Board member Ben Youngblood says the ethics ordinance has provided transparency to the lobbyists' relationships with Council and staff. "When a lobbyist goes and speaks to a Councilmember, he has to identify himself and his client. We don't see the effect of that, but Councilmembers now know. We've shined a light on the process."
A review of quarterly reports shows that lobbyists regularly visit City Staff, particularly in the planning department, the City Manager's office, and Council. Assistant City Manager Chris Brady and Planning Director Emil Moncivais didn't respond to requests for interviews.
"You have to build firewalls," says District 2 Councilman Joel Williams, who says he often chooses not to take lobbyists' phone calls. "Yet we must take lobbying seriously; it affects public policy and budget.
"What most people don't understand is that councilpersons have their own value systems and we weigh what's good for the minority interests and the greater good."
click to enlarge
Richard Alles


Campaign finance reform was supposed to weaken the link between lobbyists' campaign contributions and Council votes - it's difficult to prove that one has bought the other - but most, if not all, councilmembers receive political contributions from lobbyists.
Haass, who says he "never feels pressured" by lobbyists received between $250-$750 from lobbyists Martin, Drought, and Torres, Donze Lopez, and Baltazar Serna. Mayoral candidate Carroll Schubert's contribution list reads like a who's who of lobbyist clients: John Schaefer, Gordon Hartmann, Gene Dawson, GW Worth. Mayoral candidate Julián Castro has accepted money from Fulbright & Jaworski and several lobbyists' clients.
By voluntarily limiting contributions to $500, Flores says candidates can avoid feeling pimped. "If you're a lobbyist, you have to say is $500 going to cover me for the whole year? There's no way there can be influence if it's just $500."
Council is interviewing candidates for the new ethics review board, the body charged with enforcing the ordinance on city employees and Council itself.
"I have issues about Council appointing the board," says Haass, but I'm concerned about how it would work otherwise. There are a lot of enemies who could apply for the board and they can take you out."
Liz Melson, who served on the previous Ethics Review Board and is interviewing with Council to be reappointed, says she would recuse herself in decisions regarding Julián Castro, the District 7 Councilman who appointed her to the group. "I wouldn't want anybody to think my opinion was swayed because he appointed me."
Several lobbyists say they're concerned the ethics ordinance omits a class of lobbyists that fly under the radar, including previous Councilmembers, those with bids before Council, or quasi-governmental commissions. Alles charges that the Development Services Task Force, which held weekly meetings with the City Manager's office, functioned as little more than a lobbying group with a civic-sounding name. "It was people from the builders association and real estate," says Alles, who attended the meetings as a spectator. "They weren't public meetings until we raised hell about it."
"In theory `those bidding on contracts` are not being paid as a lobbyist but they may act as one," adds Frank Burney. "But in a perfect world a good proposal addressing the right issues but that doesn't have a good lobbyist would win over a bad proposal with good lobbyist." •
By Lisa Sorg