Rocking the British Isles
My vote for most compelling weird rock sound of the month is the guttural consonant-fest of Yr Atal Genhedlaeth (Rough Trade), an adventurous half-hour pop disc by Gruff Rhys, better known as one of the Super Furry Animals. The lyrics are exclusively in Welsh, and those of us with limited exposure to the language may wonder how something so odd grew up in the backyard of the Queen's English. Still, there's something very comfortable about Rhys' round burblings, and his songs beg repeating whether you understand them or not.
click to enlarge
Sounds of Scotland: Franz Ferdinand, top, and Orange Juice
click to enlarge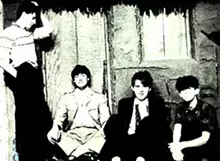 Rhys may be the most in-yr-face of young British Isle rockers this month, but he's hardly alone. Take the highly anticipated sophomore disc by Franz Ferdinand, You Could Have It So Much Better (Domino). I still haven't figured out what this high-voltage power-pop has to do with Russian Constructivism (maybe the band's designer just has a Rodchenko fetish), but the songs this time out are at least as fun as those on their self-titled debut.
Domino is doing right by Glasgow artists, pairing the high-profile FF disc with a couple of titles that could use a little popularity by association. Sons and Daughters, who played SXSW a couple of years ago, have more in common with Johnny Cash than with FF's skinny-tie kin. More to the point, they sound like northern hemisphere cousins to Nick Cave, with less hellfire and more hootenanny. Their first full-length, The Repulsion Box, occasionally strays into feedback noise but more often could pass for black-magic rockabilly, if not for the threatening Scottish accents delivering the lyrics.
Speaking of Cave, his longtime bandmate Mick Harvey has a new solo album that many are receiving as if it were his first. One Man's Treasure (Mute), on which he plays most instruments himself, is more gentle than most Bad Seeds material — country-folk overtones and a voice that wouldn't stand out on Adult Contemporary radio — but the songs are direct and emotional in a way that today's Cave probably appreciates.
Domino's real regional find of the moment, though, is The Glasgow School, compiling the work of an unknown-in-America band called Orange Juice. Listening to these sometimes low-fi recordings of jangly guitars and unpolished vocals, it's easy to feel you've discovered a missing link, like Scotland's turn-of-the-'80s version of the Velvet Underground. In fact, current stars like Franz Ferdinand and Belle & Sebastian (new album on Matador in February, kids!) own up to being huge fans, and it's easy to hear hints of both bands, different as they are, in OJ's sound.
Starting up around the same time down in England, Gang of Four clearly had a broader influence on rock music. Their first album, Entertainment!, was recently given a nice reissue by Rhino, allowing young post-punks to hear the group's masterpiece before judging Return the Gift (V2), the first new recording in more than a decade featuring the band's original lineup. Setting out in-studio to capture the feel of the group's recent live shows, Gift is mostly a re-recording of Gang's best material. Call that heresy or unnecessary and you wouldn't be wrong, but the record is sharp and biting — no replacement for the originals, but a good case for buying a ticket if the group tours through Texas.
Speaking of reissues of hugely influencial bands, Rhino is in the middle of reintroducing the world to Marc Bolan and T. Rex. After the single-disc Electric Warrior a while back, they're back with two discs apiece for The Slider, Dandy in the Underworld, Zinc Alloy and the Hidden Riders of Tomorrow, and a comp of Wax Co. Singles 1972-77. Rexian scholars will recognize that this batch is chronologically jumbled, á la the recent Elvis Costello reissues, meaning that the next batch (in January) will also feature early and late material. For the time being, newbies can embrace the brilliance of Slider's title track while old-timers dig into The Alternate Slider, composed of acoustic demos and working takes of almost all the record's songs.
One more double-disc blast from the British past, partly in honor of that new album by Mick, Keef, and Co: Joe Cocker's Mad Dogs & Englishmen (A&M Chronicles), recorded live in 1970, opens with "Honky Tonk Women" and goes on to give a good name to bar bands that never do anything but covers. If only all cover bands sounded like this one — where choice sidemen and guests like Leon Russell plow through the Stones, the Beatles, and the Band with great relish. It's a nice reminder that, unlike the Joe Cocker of today (or Gruff Rhys, for that matter), the 1970 version actually sang in an English listeners could understand. •
By John DeFore