Around the world in 80 minutes
It's been a long time since this column went globe-hopping (aside from that quick trip to Ethiopia), and the world-music shelves are now heavy with new titles.
click to enlarge
On the contemporary front, plenty of relatively new names are angling for crossover status: Brazil's
Badi Assad
, who on
Verde
(Edge Music) covers U2's "One" and goes cutesy about her "Little White Top"; Cuba's dance floor-friendly
Descemer
on
Siete Rayo
(Universal Latino); Portugal-raised fado star
Mariza
, whose beautiful acoustic disc
Transparente
(Times Square Records) was produced by Jaques Morelenbaum, vet of recordings by everyone from Caetano Veloso to Ryuichi Sakamoto. The biggest success so far seems to be
Cru
(Wrasse) by
Seu Jorge
, who made the long trip from Rio's slums to star as a Bowie stand-in for
The Life Aquatic
. The youngsters are joined by the grande dame of Cape Verde,
Cesaria Evora
, who returned this week with the upbeat
Rogamar
(RCA Victor).
More exciting than some of those is LDA V. the Lunatics (Realworld), from Mexico City's Los De Abajo — a record which bounces from cumbia to ska to mariachi, tossing in turntables and studio effects as needed and rarely slowing to wipe the sweat off and catch its breath. Other highlights come from more obscure artists: Brazil's Curumin (how many one-named recording artists are there in the Latin world?) delivers Achados e Perdidos (Quannum Projects), a funky, '70s-flavored platter where the samba comes with a side of Stevie Wonder soul; and the delightfully strange American-Cambodian hybrid Dengue Fever, whose Escape from Dragon House (M80 Music) will almost prepare you for the thrill of seeing them live at this month's SXSW festival (I randomly caught them a couple years back and couldn't walk away).
click to enlarge
The award for most wide-ranging hybrid goes to
Angá
, the Cuban percussionist who on
Echu Mingua
(Nonesuch) appears to squeeze in every lesson he's learned in a career stretching from traditional rumba to hip-hop and experimental jazz. After that dance party, relax with Italian songwriter
Gianmaria Testa
, whose
Altre Latitudini
(Le Chante du Monde), is a seductive, smoky-vocal-and-cocktail-combo affair.
There's lots of exciting activity on the reissue and ethnographic front as well. Tecnicolor, by wacky Tropicalia co-founders Os Mutantes, is a 1970 recording that never saw light until this decade (it came out a few years ago but is getting a new distribution push from Universal); here, the band records English-language versions of their hits, and the strangeness of the accents matches the psychedelic exotica just fine.
On the Establishment side of the reissue world, Smithsonian Folkways (who with titles like Mighty Sparrow's First Flight calypso collection and the Colombian marimba showcase ¡Arriba Suena Marimba! continue their invaluable stand-alone releases) have put their energy into the impressive series Music of Central Asia. The first three volumes, devoted to such obscure genres as the Afghan Rubab or mountain music of Kyrgyzstan, hit stores next week; each gathers one CD, one DVD, and a hefty booklet for under $20.
A similarly specific but more idiosyncratic look at (Southeast instead of Central) Asian music comes from the good folks at Sublime Frequencies: Guitars of the Golden Triangle scours cassettes of early '70s singles from Burma, and finds everything from psychedelia to C&W fan Lashio Thein Aung, aka "The Burmese Texan"; Radio Pyongyang stays closer to the present, offering general patriotism and tributes to North Korea's "Dear Leader," in the form of synthesizer polkas, elementary-school singalongs, and "Commie Funk?"
click to enlarge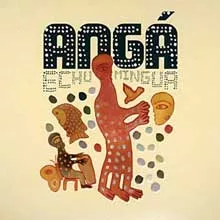 Answering some prayers, Astralwerks has ramped up its distribution of
Honest Jons
records, the label devoted to the international fixations of Blur frontman
Damon Albarn
. Recent releases have included hardcore dub titles and a pair of
Glen Brown
discs (and even a collection devoted to street-music genius
Moondog
). The latest titles, though, are Afrocentric, whether devoted to such individual players as
Kokanko Sata
or
Lobi Traoré
, both from Mali, or to compilations like the fantastic
Lagos All Routes
and
Lagos Chop Up
.
Blur fans who find themselves newly enamored of music from Lagos are advised to look next to Wrasse Records, which continues to maintain a huge catalog by the giant of Nigerian music, the popster and politician Fela Kuti — some of which squeezes two full albums onto one mid-priced CD.
Finally: Buda Musique, creators of that great Ethiopiques series (distributed Stateside by Allegro), have hopped borders for a new line, Zanzibara, that focuses on the East African coast. The first installment, Ikhwani Safaa Musical Club, pays tribute to a nightclub that just turned 100 years old, and bodes well for a series that may prove just as addictive as its big brother. •
By John DeFore