Martha Cooper rekindles her hip-hop obsession with a look at the culture's female presence
No one has done a better job of visually documenting the roots of hip-hop than Martha Cooper. The acclaimed photographer behind the seminal tome Subway Art (and the more recent Hip Hop Files: Photographs 1979-1984) was a dogged follower of the movement's early innovators, so it's a little surprising that she lost track of hip-hop in the mid-1980s, just as it reached critical mass. When a book tour put her in close proximity to contemporary hip-hop culture, she was pleasantly surprised at what she found.
"I hadn't really bothered to look closely at the culture in about 20 years so I was really happy when I saw that there were plenty of women who were seriously pursuing all areas of hip-hop," Cooper says.
click to enlarge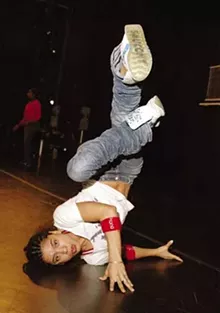 For Cooper, the love affair with hip-hop culture was rekindled last year on a dance floor in Germany. During the European promotional tour for Hip Hop Files, she witnessed hip-hop's global appeal and the expanding role of women within the underground.
"I got home and looked at the pictures and I thought, 'Wow this is really cool, I wonder if there are any more,'" Cooper says. "I started investigating and going to more events and decided to do a book because it just seemed like not much had been done about b-girls."
Culled from more than 30,000 photographs and countless interviews, We B*Girlz is a colorful testament to the undeniable force and presence of women in hip-hop. The 156-page book is jam-packed with more than 500 photographs and illustrations of b-girls whose hometowns literally span the globe and whose actions dispel prevailing myths about women and hip-hop.
click to enlarge

WE B*GIRLZ
Photos: Martha Cooper,
Text: Nika Kramer
(Powerhouse Books)


Aside from Cooper's captivating photos, the strength of the book lies in the voices of the b-girls themselves, eloquently captured by writer Nika Kramer. The text ranges from short to lengthy quotes that shed new light on the emerging b-girl culture. Boasting a 'herstory' from b-girl icon Rokafella, We B*Girlz features insightful chapters on lady legends, crews, battling, style, events, family, and often reads like a manifesto for the aspiring b-girl.
"I think it's really cool to show the variety of girls who breakdance because there's such a stereotype of girls who are into that kind of dancing, like you seek a certain kind of image," says Shannon Phillips, a local b-girl who goes by the name Shananigans. Phillips caught Cooper's eye in San Francisco at a b-boy event called Mighty4 and is captured in We B*Girlz alongside her SA crew The Freak Show.
Phillips is also a member of the Get Down Dolls, an all-female international crew based out of Los Angeles, where she recently relocated. The 21-year-old Lee High School graduate credits the YMCA for introducing her to the hip-hop dance form and acknowledges that there have been gender-based struggles along the way.
"People don't understand how much harder it is for girls in the first place with breakdancing because of course we have hips and curves," she says. "It's a big challenge for us to be able to do what guys can do but it's so amazing when we can do what guys can do. To see a girl throw down and be able to murder a guy, it's awesome."
click to enlarge
At its core, We B*Girlz is a story of diversity. Cooper's vibrant snapshots showcase women of all colors celebrating hip-hop's inclusive, internationalist essence. "It gets me really hyped to look at the book because you see multiethnic, multiracial, multicultural and just sheer numbers of women that really shows that hip-hop and b-girlism is really a diasporic culture, that it's spread all over," exclaims scholar/filmmaker Rachel Raimist. Raimist's inspiring short film Nobody Knows My Name documented the journey of female artists in hip-hop and she also served as the driving force behind the B-Girl Be festival held in Minneapolis and featured in We B*Girlz.
"I think it's definitely an element where anybody can participate that has the physical strength, physical ability, and dedication for the dance because all you need is the beat," says Raimist. "I think that each of the elements gets kind of pinned down in the stereotype that only black girls can rap, but the dance really shows that anybody can build their skills, and that anybody has access to this element of the culture."
As demonstrated by We B*Girlz, Cooper's photos have traveled the same road as hip-hop itself, going from rare early glimpses at women inside the battle circle to a current, all-out celebration of the female presence in hip-hop.
"In terms of women, I would say I didn't know any who were seriously involved in hip-hop in the early '80s or late '70s, except maybe Lady Pink," recalls Cooper. "It's taken a long time but women are coming into their own and making a name for themselves and not allowing themselves to be dissed the way they have been, sadly, in a number of cases. I was happy as a woman to be able to concentrate on photographing women for a change, to get out of that guy culture. I wouldn't say there's 50-percent women involved now, but certainly there are girls in every aspect of hip-hop and I was happy to see that." •
By M. Solis and Kate Dalton