Austin (one-man) band Scott H. Biram rocks hard, looks like a convict, and just might be impossible to kill
Scott H. Biram looks like the type of guy who'd punch you in the face if you looked at him the wrong way. With wild eyes, a gnarly Fu Manchu mustache, and tattooed forearms that make you think "prison," Biram seems part trucker, part inmate, part Southern rocker. And the topics of his songs sit well with his appearance. Biram's music combines elements of Delta blues, bluegrass, old country, gospel, and punk (yes, punk) into songs that conjure a strong feeling of the Deep South.
click to enlarge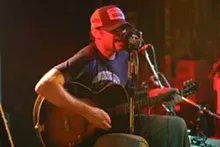 You should see the other guy: Scott H. Biram lives to sing the tale after being hit head-on by an 18-wheeler.
While the 32-year-old Austinite says he hasn't spent much time there, he's definitely got a soul birthed in the cotton fields of Alabama. Inspired by John Lee Hooker and Doc Watson, Biram says his most recent album, Graveyard Shift (released Tuesday, July 18), is the most "produced" of the five he's written. The 14 tracks evolve from a bluesy mix of gravelly vocals and foot-stompin' bass to a pure country sound to blues-tinged, old rock 'n' roll (think Chuck Berry meets George Thorogood). Graveyard Shift ends with a blasphemous two-minute song titled "Church Babies," sung in heavy, dark, death-metal style. Sprinkle in some gospel ("Can I get an amen?" he asks on the opening track, "Been Down Too Long"), and you've got an album suitable for road trips and house parties alike.
He sings through a collection of microphones that give his voice an even more crunchy CB-ish sound than it has naturally. An old Gibson hollow-body provides the foundation of Biram's music, with Telecaster lead riffs dubbed over the top. Graveyard Shift also includes what sounds like echoes of back-up singers, along with a Hammond B3 organ, harmonica, and bass-producing foot-stomps. Save a guest appearance from friend Ethan Shaw, who plays pedal steel on "18 Wheeler Fever," all the sounds on Graveyard Shift come from Biram himself.
"I record everything myself, including all the harmony vocals," he says. "Even the gospel choir in the background is just me singing in different pitches."
Biram is a self-described "one-man band," but when he takes the stage, he makes a whole lotta music. Beneath his left foot is a homemade "stomp-box" he uses to keep a beat. (Inspired by the floors of Gruene Hall, it's basically a wooden box with a pickup inside, but the details of it are a "secret.")
"I try to keep my music to the bare minimum in a lot of ways," he says. "In my songwriting and my singing, I try to keep it real ... I try to tap into my emotions that are right there and say what comes to my mind first, and then use it. I don't like all that poetic, kind of flowery stuff. I leave the poetry to Townes Van Zandt. He's the only one who can really write good poetic songs."
Graveyard Shift, Biram's sophomore album on Chicago's Bloodshot Records, was recorded between June 2005 and January '06 at his home studio between tours.
click to enlarge
It's something of a miracle that Biram — who sings about the devil, sinning and crushing a cheating girlfriend — was around to record the album. A few years back, an 18-wheeler doing 75 mph drove right over the top of his truck. The big rig was headed down a little highway between Seguin and Austin when it swerved into oncoming traffic — and straight into Biram.
Pictures of the accident are on his website, Scottbiram.com, but be forewarned: They're gruesome.
"If you just see the pictures on the website, and you see what the truck looked like, there was just a little circle around where I was sitting," he said. "I can't help but feel that I was given a chance to continue on, and I have to do everything I can to make the most of this music career." He amazed fans a little more than a month after his accident by playing a show at Austin's Continental Club — still in a wheelchair, with an IV stuck in his arm.
The accident, he says, changed his outlook on life.
"It made me a workaholic, wanting to catch up to what I was missing out on," Biram says. "And I haven't really stopped since then. And I think I overdo it, honestly. It's not very healthy."
But his fans can't seem to get enough of his shows. On a recent Saturday night, he played at the grand opening of the second Parlor pizza shop in Austin (he played at the original Parlor every Monday night for three years). Fans packed into the joint, formed an arc around Biram — who plays sitting in a chair — and went straight to the Church of Ultimate Fanaticism, as he calls it.
"I get a lot of people that say I'm their church," he says. "I think it's because I love that old revival style, and that's how you get people going."
The music seemed to flow from that old Gibson straight into the fans, who sang along and shook as if they were at a roadside tent revival.
Biram, who's on a Midwest tour, will have a "home CD-release party" August 4 at the Continental Club with the Weary Boys.