PR pioneer Lionel Sosa writes a self-help book for Latinos
Lionel Sosa was reborn at the age of 23. In 1963, at the time of his revelation, the San Antonio native was working as a sign painter for Texas Neon Sign Company on Josephine Street, making $1.10 an hour. One afternoon, a woman walked in and asked Sosa to design a small sign for her office that read, "The School of Personal Achievement." The sign was to advertise a series of classes on the principles of American author Napoleon Hill, writer of 17 Principles of Personal Achievement and Think and Grow Rich. According to the woman, anyone who partook in these lessons would become a millionaire.
click to enlarge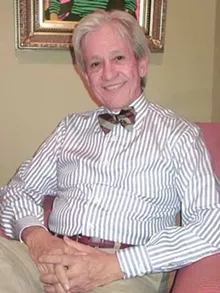 Author Lionel Sosa.
Though today this might sound like a quick money-making scheme, Sosa was intrigued by Hill's mantra that, "Whatever your mind can concieve and believe, you can achieve." He devoted his life that day to following the teachings of Hill, who spent more than 20 years interviewing such entrepreneurs as Thomas Edison, Andrew Carnegie, and Alexander Graham Bell.
Sosa has racked up his own encyclopedia-worthy record of achievement in the intervening 44 years. He has been a media advisor to six presidental campaigns, founded the largest Hispanic advertising agency in the U.S. (now known as Bromley Communications), and, in 2005, was named one of the 25 most influential Hispanics in America by Time Magazine. He is currently the CEO of Matt.org, a nonprofit organization that provides a forum for people who are interested in Mexican-American culture to talk about solutions to timely issues like immigration reform.
Think and Grow Rich: A Latino Choice, Sosa's version of Hill's 1937 bestseller, was released on May 30. In it, he reworks Hill's system to cater to the Latino community, taking Hill's 17 principles and linking each to a person (artist Jesse Treviño and U.S. Attorney General Alberto Gonzales are two) Sosa feels encompasses that specific standard.
In the book you chart "Latino values" and "Anglo values" to show the differences between the two. Where, if at all, do these values come together? I'm Hispanic, but when I was going through the list, I was about half-and-half.
click to enlarge
Let's say that we are in Mexico or Central America; we would relate only to the left side of that chart `the "Latino values"`. But once we come to America, we become aware of what this country's values are. Even people that are from Mexico have something inside of them that I would call "very American." There is this aspiration to do better — this desire for personal achievement and to dream. That's why a certain portion of them come to this country. They are the dreamers. The more that we are in America, the more that the Protestant-Anglo-Calvinistic values become part of our psyche. But sometimes, as Latinos, what we think we deserve consciously, and what we think we don't deserve unconsciously, are at odds with each other. What I want this book to do is show us where we come from and why we think the way we do.
In Chapter 6, "The Extra Mile," you talk about the "Big Four Windows to Success," which include positive mental attitude and definitiveness of purpose. You write, "If you master these four, the other 13 will naturally fall into place." Are you worried that some readers could misinterpret this as a shortcut to success?
Well, if they do, then they'll succeed. Everybody takes their own shortcuts. I think all of us who read books, especially books on self-improvement, can read the whole book and take away one or two ideas from it. When I read the 17 Principles of Personal Achievement, those four were the ones that I applied daily without even thinking about it. I would love to take the experiences that I have and help others achieve a success greater than they ever thought they could have. That's the American Dream.
When it comes to self-help books, it's hard for me to understand where new ideas come from. Is it correct to say that all self-help books are interchangeable?
I think self-help books are the same ideas and philosophies presented in different ways. I think if you were to distill all the wisdom in all these books, you would come up with the 17 Principles of Personal Achievement somewhere in there. The reason that I believe in these `principles` is because Napoleon Hill spent 20 years of his life interviewing people for his books. It was based on research and not just personal experiences. `Hill` sat with the most important people of that time to write what he did.
Harvard University Professor Samuel P. Huntington mentions you in his 2004 book, Who Are We? The Challenges to America's National Identity, in which he writes that immigration will disunite America and that Latino values are a threat to the country. What do you say to someone like this?
I think he is wrong and at some point he will see the error of his ways. Maybe he's a racist, or maybe he believes it, or maybe it's just his schtick — a way of selling books. Anybody who is a separatist, who ranks one group against the other or feels that one group is less efficient than the other, has flawed thinking. I think that just because Huntington puts the Latino in this box of stereotypes doesn't make it so.
You've worked on the campaigns of George W. Bush and his father. Have we seen the last of the Bush regime in the White House or is there more to come?
There is a big future for George Prescott Bush. Many think he will be the first Latino President of the U.S. He has a lot going for him. He has that natural ease and that willingness to be a public servant. He is used to it and has seen it all his life. This guy knows all there is to know about life as a politician.