The City budget process begins - without the mayor
The mayor didn't show and there were no budget figures, but about 40 San Antonians petitioned their elected officials last week at a public hearing on the City's finances.
Although it was the first public hearing on the City budget - Phil Hardberger's inaugural one as mayor - hizzoner was conspicuously absent, as was rookie Councilman Roland Gutierrez. District 10's Chip Haass disappeared about a half hour into the budget session.
click to enlarge
There will be two additional public hearings about the budget: August 11 and prior to the budget adoption on September 15.
(Photos by Melissa Santos)
Nonetheless, the show had to go on, and as mayor pro tem, District 8 Councilman Art Hall convened the hearing, which mentioned no dollar amounts but did allow citizens an opportunity to voice their opinions about City finances for fiscal year 2005-06, which begins in October. The 2004-05 City budget was $1.54 billion. `See "The budget piñata," September 23-29, 2004.`
Citizens were primarily concerned about social services, animal care facilities, children's programs, and street maintenance.
San Antonio has earned the reputation for being a "cheap labor town," said Mike Phillips of COPS/Metro Alliance, which supports Project Quest, a job training program partially funded last year by the City. He lambasted Council for not directing City management to help develop a trained workforce to attract employers willing to pay more than minimum wage. Phillips said the City's reputation has caused a major brain drain and urged Council to "invest in our people" through higher education and job training.
The City still has no plan to cope with thousands of stray cats and dogs roaming the streets, said Voice For Animals Director John Bachman. "Figure out what's wrong and fix it. The animal-care facility still is not (supervised) under the city manager, and there is no blue-ribbon committee" to make recommendations for improvements in the City's animal care program or facilities. "The situation is normal, all fouled up.
"Spend more money on a spay and neuter clinic and adoption clinic. Hire trained personnel. Inject animals (to kill them), don't gas them," Bachman added. "If you don't fund it adequately, you might as well do nothing."
Laura Stanford of Citizens for Pound Reform also spoke about the City's chronic underfunding of animal-care facilities. "We're not asking for fluff. We're playing catch up just to get up to standards. Animal control is a prime target for reduction `in funding`."
click to enlarge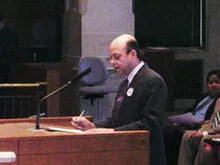 Mike Phillips of COPS/Metro Alliance addressed City Council during the first public hearing on the budget. COPS/Metro Alliance supports funding for Project Quest, a job training and educational program.
Bob Martindale of SAMMinistries urged Council to "invest in human capital. I speak of the homeless." The City should invest in public restrooms in the central business district, he said, and fund Council's recently adopted 10-year plan to help homeless people in San Antonio.
Eric Cooper, executive director of the San Antonio Food Bank, pleaded for funding to help build a new food-storage warehouse. "We're doing the best we can, but the demand is overwhelming." He spoke of 4,500 sack lunches the Food Bank provides daily for underprivileged children. He said one child asked for a couple of extra sack lunches on a Friday, so he would have food to last through the weekend.
And former public works director John German said he supports Councilman Kevin Wolff's initiative to put an extra $5 million into the street maintenance budget. "That would almost double what you're spending now. Terrell McCombs says we should spend $60 million on streets."
Linda Nairn spoke in favor of funding the City's libraries. A member of Friends of the Library, she volunteers at the Thousand Oaks Branch Library in her neighborhood. "Last year, 106,426 people walked through the library doors. This year, there were 145,000. We're getting 20,000 visitors each month. More and more people are using our library system. We need more money for our libraries."
There will be two additional public hearings about the budget, one on August 11 and the other prior to the budget adoption on September 15. More info: sanantonio.gov. •
By Michael Cary