Barrera vs. Elizondo: seeking answers
Like Bexar County, which, with its lack of zoning ordinances seems to function on the fringe, County government is akin to the Wild West. There is no County ethics commission, which is how Yvonne Escamilla, the County Commissioners' public information officer, can stump — albeit on her personal e-mail account — for incumbent Commissioner Paul Elizondo. Legal? Yes. Ethical? Hmm, it doesn't pass the sniff test.
click to enlarge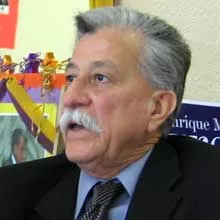 Enrique Barrera



Commissioners each command a hefty $63,000 annual salary, compared to City Councilmembers, who take in a whopping $20 per meeting. County Commissioners meet every other Tuesday at 11 a.m. at the Bexar County Courthouse — with myriad work sessions sprinkled in — but their lovefests are rarely well-attended, even though they control such basic governmental necessities as the tax assessor, elections department, jail, and University Health System. If you've voted, paid taxes, spent time behind bars, or waited hours in the University Hospital emergency room for care, then you've been touched by County government.
Elizondo, who's been a commissioner since 1983, didn't return calls from the Current requesting an interview to chat about his campaign or why in 2002 he accepted a $24,703 in-kind campaign contribution from Linebarger, Googan, Blair, et.al. — the same tax-collection firm the County uses to pursue delinquent taxpayers. Or why he reported the contribution eight months late. There must be an explanation.
Elizondo's opponent, former District 6 City Councilman Enrique Barrera, did talk to the Current, but was vague about how he would improve the lives of Precinct 2 residents.
Precinct 2 extends from near Government Canyon on the county's far Northwest side, south and east through Leon Valley, Woodlawn Lake, Olmos Park, and nearly to Broadway. Its southern boundary is Highway 90 and it stretches as far west as Culebra Road and Loop 1604.
"We need some form of outreach, town forums," said Barrera from his campaign offices on Fredericksburg Road. "And we need a closer relationship with our state and federal delegations. The City has very effective lobbying teams. The County needs the same kind of relationship."
Barrera has received support from toll-road opponents for his stance that Bexar County must examine alternatives to the pay-to-drive plan. "Are we getting our fair share of gas tax back?" he asked.
Good question. Here's another one: What do Bexar Countians receive in return for their commissioner's $63,000 a year?


Are they experienced?
click to enlarge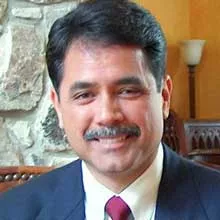 Ralph Lopez



The Ralph Lopez campaigning for the 225th District Court is not Sheriff Ralph Lopez, but a trial lawyer who says he has more experience than his opponent, Children's Court Judge Peter Sakai.
"The kinds of cases he tried include family law, which are numerous but not too complicated," said Lopez, adding he has experience in environmental law, medical malpractice, and employment discrimination. "If you preside over child neglect, there is zero preparation for cases that are more complex. A Children's Court background sells well, like mothers and apple pie."
click to enlarge
Peter Sakai
Sakai countered, "The reality of the current civil-law system is that 80 percent of `cases` are family-law cases." Of the 26 years he has been a licensed attorney, Sakai said, 18 of them have been as a judge, and his "experience far exceeds my opponent's."
Judge John Specia triggered the vigorous campaign between Sakai and Lopez when he announced he was retiring from the 225th District Court. He did not endorse any candidate to replace him.


Candidates gambling for education
At a February COPS/Metro accountability session, Frank Madla and Carlos Uresti, who are battling for the Democratic vote in State Senate District 19, agreed to increase per-pupil spending on public education, but also agreed that gambling could help fund education — a contentious issue during the last legislative session.
Both candidates said they would support a broad-based business tax, fund the job-training program Project QUEST, and restore money to the Children's Health Insurance Program. In campaign ads, Uresti has charged that Madla voted to toss thousands of children off the program; the Express-News reported that Madla, the incumbent, said Uresti is mischaracterizing Madla's procedural vote to let the bill go forward and that he later voted against it.
– Corinne Welder


STONEWALL DEMOCRATS OF SAN ANTONIO
ENDORSEMENTS
MARCH 7, 2006 DEMOCRATIC PARTY PRIMARY ELECTION
(Early Voting begins Feb. 21 and ends Mar. 3)
U.S. Senator
Barbara Ann Radnofsky
U.S. Representative, District 20
Charles A. Gonzalez
U.S. Representative, District 21
John Courage
U.S. Representative, District 23
Rick Bolanos
U.S. Representative, District 28
Ciro D. Rodriguez
Governor
Chris Bell
Attorney General
David Van Os
State Senator, District 19
Carlos I. Uresti
State Senator, District 25
Kathleen Kathi Thomas
State Representative, District 116
Trey Martinez Fischer
State Representative, District 118
Larry Ricketts
State Representative, District 120
Ruth Jones McClendon
State Representative, District 122
Larry Dean Stallings
State Representative, District 123
Mike Villarreal
Justice, 4th Court of Appeals, Place 2
Catherine Stone
Justice, 4th Court of Appeals, Place 3
Richard Garcia, Jr.
Justice, 4th Court of Appeals, Place 4
Dan Pozza
Justice, 4th Court of Appeals, Place 7
Eddie De La Garza
Judge, 45th District Court
Barbara Hanson Nellermoe
Judge, 144th District Court
Catherine Torres-Stahl
Judge, 150th District Court
Carleton Spears
Judge, 186th District Court
Maria Teresa Tessa Herr
Judge, 224th District Court
Gloria Saldana
Judge, 225th District Court
Peter Sakai
Judge, 227th District Court
Philip A. Kazen, Jr.
Judge, 408th District Court
Larry Noll
Judge, County Court at Law No. 1
Al Alonso
Judge, County Court at Law No. 3
David Rodriguez
Judge, County Court at Law No. 5
Ina Castillo
Judge, County Court at Law No. 6
Phil Meyer
Judge, County Court at Law No. 7
Monica Guerrero
Judge, County Court at Law No. 9
Oscar J. Kazen
Judge, County Court at Law No. 11
JoAnn DeHoyos
Judge, Probate Court No. 2
Barbara Scharf-Zeldes
District Clerk
Margaret G. Montemayor
County Clerk
Tim Ybarra
County Commissioner, Precinct 4
Tommy Adkisson
Justice of the Peace, Pct. 1, Pl. 2
Saul R. Acevedo
Democratic Party County Chair
Carla Vela