SA's Hurricane Katrina evacuees travel to Washington to find answers
Nearly six months after Hurricane Katrina demolished most of New Orleans and parts of the Gulf Coast, the area is still covered in detritus, trash, and toxic waste. Only now, after a Congressional investigation and a damning 520-page report — issued despite the Bush administration's refusal to release to Congress internal documents related to the government's belated response to the storm — do Americans know the extent of the Department of Homeland Security's and the White House's negligence and impotence in dealing with the disaster.
click to enlarge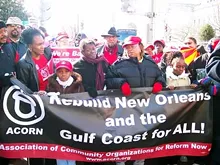 Katrina evacuees rode buses from Texas and Gulf Coast states to march on Washington, D.C., to ask their elected representatives to help them rebuild their homes in New Orleans and other communities, and to include them in the process. They lobbied two days at the Capitol before returning to where they currently reside.
(Photos by Michael Cary)
This is the backdrop against which a crowd of 500 Hurricane Katrina evacuees — including 38 from ACORN's San Antonio chapter of Katrina Survivors — took their concerns to Washington, D.C. the week of February 7. While many members of Congress claimed solidarity with evacuees and said all the right things, words alone can't rebuild a city or restore the survivors' lives.
ACORN is the Association of Community Organizations for Reform Now, a non-profit organization; it had cleaned 575 homes in New Orleans by early January.
Verlean Davis, originally from New Orleans and now of San Antonio, wanted to tell her story to Lamar Smith, a Republican, and Henry Cuellar, a Democrat, who represent San Antonio in Congressional Districts 21 and 28, respectively. Davis injured her feet during the flood, in which she and her family nearly drowned. She twisted one ankle, which was not set properly, and her other foot has an unhealed gash she sustained from broken glass that exploded from a burning apartment her family was fleeing as Katrina pelted them with rain. "We got out by boat, lived on the interstate, and then transferred to the convention center with no food and water for five days. It was hell."
Gerald Williams, who had to reassure his daughter that they were not going to die — despite dead bodies in the water and the police pointing their guns at them as they awaited rescue — accompanied Davis to Smith's and Cuellar's offices.
Terry Stinson, Cuellar's chief of staff, met with Davis and Williams, and carefully jotted down their pleas: not to be forgotten, to take care of their families, to help them find decent housing, and to obtain medical care and financial benefits until they can return to New Orleans to rebuild their homes and their lives.
"Thank you for sharing your experience," Stinson told them before ushering them from Cuellar's office. "We can intervene in each of your cases. I understand your issues. We are at your disposal."
On February 8, marchers filled a chamber in the Cannon House Office Building for a Democratic hearing on the Gulf Coast housing crisis. "This is a scandal," U.S. Represent- ative Nancy Pelosi (D-California) told the survivors. "Bush doesn't believe in the government's role in helping the American people. We have to change all of that."
But Pelosi did not say how.
U.S. Representative Barney Frank (D-Massachusetts) spoke more harshly: "Bush said FEMA would perform an act of God, but they are having a heck of a time finding you. I hate to say this about my own government, but this is a policy of ethnic cleansing."
But Frank did not say how to change that policy.
"What this Administration needs is a little street heat," bellowed U.S. Represent-ative Maxine Waters (D-California). "If I had my way, you would stay in this room and not leave. Don't expect the administration and Republicans to wake up to understanding. They aren't listening. They aren't hearing, they're not doing anything. I'm so embarrassed and so upset about what has happened to New Orleans, Alabama, `and` Mississippi, that if you decide to stay here, I'm going to jail with you."
But Waters didn't have to go to jail, as the evacuees had to attend a candlelight vigil in front of the White House (there was no Bush appearance or invitation to dine with the First Family). The next day, evacuees allied in what one local latte sipper called the "Senate Swamp," a park that lies across the street from the U.S. Capitol.
click to enlarge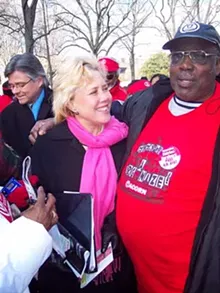 Louisiana Senator Mary Landrieu and her family lost several houses when Hurricane Katrina hit New Orleans. She appeared at a rally to encourage Katrina evacuees to continue to fight for recognition by the government.
"We have traveled to Washington because we want to return and rebuild our homes and our communities," was the carefully worded message the ACORN members brought to D.C. "After five months away from home, much has been promised but too little has been done to help us return. We need help, and despite the promises the President made when the public was watching, our communities have not received the help we need. The recovery has barely begun."
The crowd cheered when Senate Minority Leader Harry Reid and Democratic Senators Mary Landrieu of Louisiana and Hillary Clinton of New York encouraged the Katrina survivors to continue their fight to return to New Orleans and other parts of the Gulf Coast.
"More Americans were displaced by Hurricanes Katrina and Rita than any event in our history, save the American Civil War," Landrieu stated in a press release distributed at the park. "The people of the Gulf Coast are ready and willing to rebuild, but we need the President to fulfill his pledge to 'do what it takes.'"
The Bush Administration has asked Congress to earmark $4.2 billion in addition to the original $7.7 billion appropriation to help those whose homes were most severely damaged by Hurricane Katrina. However, residents remain displaced throughout the country, some without homes. National Public Radio recently reported that 45,000 Katrina evacuees living in hotels near New Orleans were being evicted because the Federal Emergency Management Agency had cut off housing funds.
"I was shocked at the behavior of FEMA and the federal government," Clinton said to the cheering crowd. "If we don't fix FEMA, we're letting everybody down. If America doesn't take care of its own, how can we tell the rest of the world we're in control?"
On February 9, Katrina survivors gathered in an auditorium in a Senate office building. While they heard encouragement from Senators Frank Lautenberg, Barack Obama, and Joe Lieberman, they received no concrete answers. (FEMA Director R. David Paulison had consented to meet with 40 Katrina survivors, but the meeting was short and not open to the press.)
At the end of the week, as members of the local chapter of ACORN Katrina Survivors were enduring a 30-hour bus trip to San Antonio, a letter addressed to Gerald Williams was being drafted onto Cuellar's Congressional letterhead.
"In respect to the rules and tradition of The United States House of Represent-atives," the letter said, "we are unfortunately unable to assist those who reside outside of the 28th District of Texas." •
By Michael Cary