Southtown endures some growing pains
May was not a merry month for Southtown. Residents, unhappy with the spectacle of First Friday, more drunken bazaar than art walk, were ready to abandon the event, which many area merchants rely on to stay profitable. In response, Southtown Mainstreet Alliance organized a committee of merchants, businesses, and residents from King William and Lavaca to talk through the issues: How to accommodate the neighborhood and rein in First Friday without killing it. And, in the long term, how to attract foot traffic into the neighborhood the rest of the month. Two months later, it seems easier said than done.
click to enlarge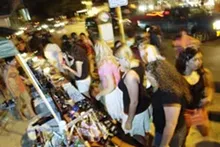 Crowds stream by one of many sidewalk vendors on South Alamo Street during a recent First Friday.
(Photos by Mark Greenberg)
"I wish First Friday would go back to being an art walk," sighs Art Link, owner of the Columns on Alamo bed and breakfast in King William. "We liked it four or five years ago, when it was a more mature crowd, when they still used trash cans and were interested in art. Now it has morphed into a late night crowd, gypsy peddlers, and fajitas and what not. What's the deal with the drinking? Does it make them less resistant to buying art?"
Link is expressing what seems to be a common opinion in Southtown these days. No one wants to jettison First Friday, but many folks would like to see the monthly party calm down and return to the original premise of the art walk.
In 1996, First Friday was conceived by an ad hoc group of merchants to bring consumers into the neighborhood, promote the Southtown businesses, and highlight local artists and craftsmen. For the first five years, it was a sleepy event. "Even the King William Association had beer and a guitar on the front porch to try to help out," says Steve Yndo, president of the King William Association.
About two years ago, Blue Star began staying open for the event, which increased its popularity and attendance, table-top vendors started showing up from all over the state, hawking faux designer bags and Day-Glo light sticks, and the merchants introduced louder, more raucus music.
Beyond noise pollution, Link says his customers can't access his parking lot because it is blocked by First Friday revelers. Since the city passed an ordinance banning drinking on the street, folks tend to return to their cars to "chug and drop." Saturday mornings after the monthly event, Link says he has to pick up beer bottles, condoms, and the occasional hypodermic needle.
"That's not true," says Vince Martinez, director of Southtown Mainstreet Alliance. "The trash issue is something that people fall back on that's not so true today." The Southtown Alliance works with volunteers from local high schools to pick up trash on South Alamo and the surrounding blocks in return for breakfast at Tito's and community-service credits.
click to enlarge
Crowds mingle outside of the Blue Star Brewing Company on First Friday.
Although First Friday has never been under any organization, Southtown Alliance has recently organized the stakeholders and revived the First Friday Art Walk Committee, which dried up five years ago. At its May meeting, the committee set guidelines, some legal, such as the City's noise ordinance and table-top vendor licensing. Others were suggested by the art walk committee. Merchants are encouraged to provide trash cans and pick up garbage, rent table-top vending space only to people who make their own arts and crafts, hire private security, stop amplified live music at 10 p.m., and close by 10:30.
June 3, the guidelines were tested. Yndo reports that "`First Friday is` doing quite a bit better," and Martinez, more cautiously optimistic, says that while they are still looking at ways to lessen the impact of First Friday æ such as providing parking farther from the neighborhood æ last month's event was a "tiny step" in the right direction.
Yet, some merchants are still stinging from the smack down they received from City Code Compliance.
Skip Frausto, owner of Espuma Coffee & Tea Emporium, received a ticket for a band playing on the café's porch. It was before 10 p.m., but apparently the band exceeded the 74 decibel limit, about as noisy as a ski boat, and violated the noise ordinance. Frausto said the ticket would cost around $500.
Similarly, the table-top vendor parked in front of El Sol Studio was one of many that received a ticket for not having a notarized affidavit of permission from the business owner, in this case, Ruth Guajardo. When Guajardo explained that she didn't know the affidavit needed to be notarized, she says the code compliance officer replied "I don't care," and issued the ticket. Tickets for non-compliance can run from $200-2,000. "He was rude and threatening," says Guajardo. "I felt so unwanted. I'm part of Southtown Alliance, so I know it wasn't an intentional hit. They were trying to help, but it backfired."
For Guajardo, the vendors represent extra income each month, $25 a vendor, and they attract foot traffic to her door. And that's the rub: Southtown merchants, such as Guajardo and Frausto, support the guidelines and want to please their neighbors, but they also need to be profitable. Though Guajardo and Frausto said they wouldn't go out of business if First Friday discontinued, both rely on it.
"First Friday starts the month off for everyone," asserts Frausto, who says having the band and vendors leave early cost him 25 percent of his usual First Friday take. "It sets the tone of what you will and won't be able to do and, for a lot of people, it's rent."
"We have become too complacent in how big First Friday is," says Martinez. "We need to develop more options and not put so much emphasis on that one day of the month."
To that end, Southtown Alliance has started a Second Saturday walk, which runs from 2 to 4 p.m. and is meant to attract "higher-end art drivers and our private lists," says Lara August, owner of Designs Robot and Robot Gallery. "We are businesses not museums; we want a buying crowd, not a browsing crowd."
August leads the marketing committee within Southtown Alliance that is working with area merchants, businesses, and community members to create a marketing plan for Southtown, including the creation of a new tagline (replacing the Prairie Home Companion-inspired "where the art is above average ..."), logo, entry signs, and possibly storefront signage.
August says the committee is looking longterm at marketing Southtown to the tourists beyond San Antonio, to even an international level, work she sees as a "many-year process."
In the meantime, she says, there are plenty of short-term projects: Coordinating business hours in the district, posting Southtown signs in business windows ("Sometimes we find people standing right in the middle of the district asking 'Where is Southtown.' You're in it!"). They are also working on a newsletter and advertising to market Southtown to downtown tourists and to the rest of the city.
"There are tons of maps of San Antonio circulating," says August, "but very few, if any, have Southtown on them. We need to see about getting on the map." •
By Susan Pagani