If you get a traffic ticket, a letter often magically appears in your mailbox promising to fix it
Erika refused to divulge her last name last week as she stepped away from a cashier's window at San Antonio Municipal Court on Frio Street. The young woman had been cited for exceeding the speed limit on the freeway. Her lead foot cost her $160; she is on probation and will have to spend a Saturday at a local comedy-cum-defensive driving outlet, setting her back another $30. To keep her driving record clean, she can't receive a traffic violation citation during the year. If successful, she could pay a lower auto-insurance rate and will avoid getting costly points from the state.
click to enlarge
Erika took off work and went to the trouble of negotiating with a municipal-court judge. However, shortly after receiving her traffic citation, she also received letters from three local attorneys who offered to appear in court on her behalf. "I threw `the letters` away," she says. But she wondered how the attorneys learned about her traffic violation in the first place.
Attorneys began accessing information about traffic violators through the state's open records act in the mid-1990s, says Municipal Court Manager David Presciado. "We've been doing it for some time, although I think there was a big push around 2001 when it became the thing to do, with attorneys trying to access information." The court also provides information to insurance companies and defensive-driving companies," Presciado added.
A handful of San Antonio law firms pay the court a $25 access fee, either by the week or by the month, depending on the amount of business they want to solicit from traffic violators. The cost depends on the information they seek, such as the names of those receiving traffic violations, the most common citation issued.
"We tried not to give it out to them, but because of open records laws, basically we had to," says Presciado.
Signing up clients in the municipal court system seems lucrative, since approximately 300,000 citations and 100,000 parking violations are issued each year in San Antonio.
Presiding Municipal Court Judge John Bull says the court has always had a plea-bargain court available to attorneys. "San Antonio is a large municipality and there are attorneys that will come in with a large volume of traffic violations, representing people on tickets. The original reasoning was to find a place where they could go."
Traffic violators have the option to appear in court themselves, and if their driving records are clean, may negotiate a deferred adjudication if they are skilled enough, but more likely a judge will grant that status, but with a stipulation that the driver take a defensive-driving course. The attorneys who advertise their services virtually guarantee probation without the requirement to take driver's-safety courses, and of course their clients will save an hour or two by not having to appear in court downtown (which requires time off from work or play).
click to enlarge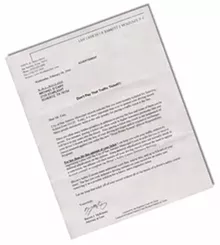 Using the Open Records Act, several San Antonio lawyers troll the rolls of traffic violators and send them letters advertising their services. The attorneys then go to a special plea-bargain court and negotiate deferred adjudication for their clients.
On Wednesdays, attorneys come to plea-bargain court with 200 traffic tickets they would rather not take to trial or to a hearing before a judge. Citizens with traffic tickets go to an appearance court where they can address the tickets themselves.
Local attorney Barrett McKinney sends letters to potential clients on his letterhead, but he labels them as advertisements. "Don't pay that traffic ticket!" reads the headline on the letter. "Today, it is more important than ever to protect your driving record," the letter continues. "Many people mistakenly believe the only penalty for paying a traffic ticket is the fine. For instance, paying a ticket can often result in higher insurance premiums that you will have to pay years into the future."
McKinney offers to obtain a deferred adjudication for his clients, who can sidestep attending a driver's-safety course. "It's rare if I can't get a ticket deferred for somebody," says McKinney, a former police officer in South Dallas and Castle Hills. He also worked in the Bexar County District Attorney's office before becoming a lawyer.
"This is a large part of my business, but I don't make a whole hell of a lot of money," McKinney says. "But it is a good reference for other cases, generating referrals more than anything."
Attorneys who work in plea-bargain court say they have established good working relationships with municipal-court judges. In addition to McKinney, Jesse Sepulveda, David Clarkson, and Diana Casarez Minella, negotiate the lion's share of traffic tickets. "You've got to have resolve to stick with it; it is a lot of work to send those letters out all the time."
To attract clients, Minella advertises her previous stint as a municipal-court prosecutor. "Keeping violations off your record is important now that Texas has implemented a point system that tracks convictions you receive," Minella's letter reads.
"According to the Texas Transportation Code, a point system was adopted by the state in 2003," says Minella. "For every conviction you get two points, and if you get six in a 36-month period, you will have to pay $100 a year for your license. A conviction for no insurance is an automatic $250 per year. Most people don't know that if they go pay the ticket, it's an automatic conviction and the points accumulate. I get a lot of calls asking for me to fix what they did."
A municipal-court judge who asked that his name be withheld said many times someone will bring a soliciting attorney's letter to court and hand it to the judge, thinking the letter originated from the court. "They have the idea that the lawyers work for us.
"Personally, I don't like it," the judge says. "I didn't like the idea of lawyers soliciting clients `a forbidden practice two decades ago`. It's demeaning to allow attorneys to do that. But they do provide a service; a lot of people simply don't have the time to come down here." •
By Michael Cary