click to enlarge
Belt Buckle, Cartier Paris, 1930. Platinum, gold, baguette and single-cut diamonds, black enamel.

The creative process for jewelry is the same whether it's diamonds or tin
Cartier Design Viewed by Ettore Sottsass, now on view at the Museum of Fine Arts, Houston, begins with a narrow portrait gallery of bejeweled rulers: kings, queens, chiefs, maharajas, socialites, and movie stars. Sottsass is giving us context, asking us to think about who has worn Cartier jewels and why. "Here the main theme revolves around ornamentation as a representation of power," he says. It's not an especially enlightening thought, but it's real; approaching the exhibit we expect to see a collection of stunning objects, to feel delight, wonder, and covetousness, and maybe a little disdain - these belong to the inaccessible realm of the very wealthy.
Instead, once inside the exhibit, our focus changes to craft. "I care nothing for the social importance of pieces or their material value. My choice was made on the basis of colors and the quality of design," says Sottsass. So much the better: it's fun to study the provenance of each object - the clock of Maharaja of Nawanagar or the brooch of Countess Hohenfelsen - but it's more interesting to learn about the materials, influences, and work that made each piece the delicious little bit of bling that it is.
click to enlarge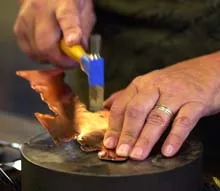 Suzanne McNeill uses a hammer to shape a piece of metal during a jewelry making class at the Southwest School of Art and Craft. (Photo by Mark Greenberg)


As the exhibit title suggests, Sottsass, an Italian architect and designer, was both art director and scenographer: He selected 200 objects from the Cartier Collection - 1,200 objects dating from the establishment of the family company in 1847 and forward - and then created the showcases, lighting, and environment around them. The result is a darkened gallery seemingly lit only by the sparkling objects displayed in a meandering line of telephone-booth-sized black cases. A series of jewelry designs in ink, graphite, and gouache on tracing paper have been blown up and hung on light boxes to look like stained glass, providing a break between the cases. The effect is one of space and peace; the pieces don't compete with one another and we can look at each apart from the overwhelming whole.

"Fern Spray" is a set of two articulated pendants designed to look and move, well, like a fern frond. Made in 1903 with rounded, old European-cut diamonds, it's remarkable for its graceful sway, but also because it was the first jewelry to include platinum. Unlike gold and silver, platinum is strong and lightweight, and can be worked in a very thin gauge to create settings that are delicate, like the garland-style "Fern Spray," but strong. Here, Cartier also used the malleable metal to create a white on white composition that would show off the diamonds in all their gleam and glory.

Cartier design viewed by Ettore Sottsass
10am-5pm Tue-Wed,
10am-9pm Thu,
10am-7pm Fri-Sat,
noon-7pm Sun
Through Mar 27, 2005
$7 adult, $3.50 senior, youth
Museum of Fine Arts, Houston
1001 Bissonnet
713-639-7540


The Cartier family innovated, but they were also heavily influenced by history; studying the ancient designs of other cultures, particularly Asia and India, infused their modern designs with ornate exoticism. The 1928 Art Deco "'Elephant' Mystery Clock" incorporates a pale green jade elephant - a found object d' art from 18th-century China - standing on a base of black enamel. The elephant wears a tiny coral beanie and a mother of pearl blanket, and its tusks are punctuated with oriental pearls. On its back sits a pagoda-shaped clock with a face of onyx, coral, and rose-cut diamonds, and delicate coral flowers dangling from its eaves. If the style doesn't give away the Chinese influence, its onyx and diamond eyes are slanted at an angle reminiscent of little green aliens.

The jewelry designs are a compelling part of the show, not only for their artistry - they had to be as exact as possible to provide a pattern for the craftsman - but also as they serve the viewer: a constant reminder that these pieces were made by human hands. A favorite was the partial enlargement of a vanity case design featuring an intricate Chinese vase. It's one of few you can actually map to the object created, and it's wonderful to see all the flowers right where they were drawn, a delicious bouquet of multi-colored enamel set off with emeralds, sapphires, and diamonds on a background of black enamel.

click to enlarge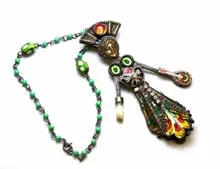 Teri Blond, artist and SSAC instructor, created this Virgin from found objects and a can of Kikkoman Soy Sauce


In Sottsass' show notes, he talks about how "the object we design must help people become aware of their own existence." This quote comes floating back to me as I visit a "Tin Can Wearable Art" class at the Southwest School for Art & Craft, looking for a parallel between the work being done here and the opulent pieces displayed at the Cartier exhibit.

Instructor, artist, and tin enthusiast Teri Blond says she has been working in thin metals since she was 12. She likes them because they are cheap, but also because they are light, which lends itself well to the kind of metal collages she creates. In her class, students cut basswood, which is very light, into various shapes and cover it with copper. The copper is then layered with other materials to create jewelry. All of the students brought found objects from home as well as tin cans ... lots of tin cans: spices, leibkuchen, Indian pure ghee, and salsa.

click to enlarge
"Elephant" Mystery Clock, Cartier Paris, 1928. One of some 200 objects from the Cartier Collection now on display at the MFAH.


Blond shows me an eclectic Virgin she made from a Kikkoman Soy Sauce can. An old cameo gives her a beatific face; crystal tabs cover the O of soy sauce, placed to suggest puffy shoulders presiding over a bodice made entirely of cut-up bug wings. The Virgin has sugar tong arms that end in an ivory hand on one side, and a tiny banjo of cut micro-mosaic on the other; and her skirt is ornate sections of the tin can, stitched together with wire. (The cut-up bug wings glow emerald green, but Blond says they turn brown when the piece gets hot.)

"I store everything I find in my mind," says Blond. "I have an incredible photographic memory, so I can reach back and put them together."

That seems to be true of everyone in her class. Cruising around, I see a stubby cross decorated with thin strips of Bavarian cookie tin and a dangling row of tiny gold circles. The artist, Theralyn Hughes, took the latter from an earring, sanded it, colored it with a sharpy, and then distressed it further with some steel wool. She's working from a tin of earrings collected at flea markets, and she shows me a knot of red wire she found in a parking lot with some pride. "When you do this kind of work, you look at things differently: you see how you might use it one day. So, I have a garage full of things," she explains. I suppose that's how Cartier felt when he put together the "'Elephant' Mystery Clock." The impulse and process are the same, whether it's an 18th-century jade elephant or a garageful of whatnot.

click to enlarge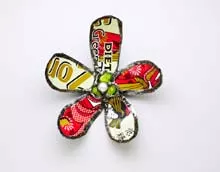 Stephani Nance created this elegant tin flower as part of the "Tin Can Wearable Art" class at SSAC. (Photo by Mark Greenberg)


Another artist, Stephanie Nance, has cut a can of Arizona green tea into an elegant five-petal flower, soldered at the center with three individual peas - taken from a can of wasabi green peas - and a plastic pearl. It may not express power, but it does convey wit, whimsy, and a certain moral goodness at having used something twice. It's hard not to covet this delicious piece: Diamonds may be a girl's best friend, but tin is certainly more affordable.

Ultimately, though, the point is not jewelry high and low, but that each informs us - whether we see it as art, craft, power, or simply beauty - and each is created through the same collaboration of creativity and technique. Ettore Sottsass said that he came to realize, while working on the Cartier exhibition, that "the history of jewelry reveals the history of mankind as a whole. It's all about incredible efforts, endless voyages to find stones." •

By Susan Pagani