During her three-month residency in Berlin, San Antonio artist Karen Mahaffy toured a prison used during World War II by the Nazi secret police, the Stasi. No telling what unspeakable horrors the walls may have witnessed, but Mahaffy found the tacky, brightly colored, ornately-patterned wallpaper and linoleum flooring to be more revealing. The crummy decorations seemed a symbolic illustration of what the German Jewish political theorist Hannah Arendt called "the banality of evil."
Mahaffy took pictures and upon returning home, she used editing software to animate her images, creating a three-channel digital video, Untitled (Berlin Shift), that causes the flowers in the wallpaper to slip and slide across the walls like gentle, golden snowflakes. It's now being exhibited in "Back from Berlin," on view through May 10 at the Blue Star Contemporary Art Museum.
"Berlin struck me as a very formal city and that formalism in everyday life is what interested me," Mahaffy told the San Antonio Current last week in a phone interview. "Some things from World War II had been left to decay and provided a stark reminder of the place's history and what happened during the war. But I also had a lot of people tell me that Berlin is not Germany — it's become more of an international art center with people from all over the world."
Longtime San Antonio art patron Angelika Jansen has been working since 2010 to organize the Berlin Residency Program. Jansen, who divides her time between the two cities, set up a partnership with the Künstlerhaus Bethanien, a nonprofit residency and exhibition center in the heart of Berlin's art scene that provides studios and other accommodations year-round for 25 international artists. Jansen garnered enough support so that each year four artists living in Bexar County will have the opportunity to spend three months living and making art in Berlin.
"Back from Berlin" is the first exhibit resulting from the project, showcasing artists from the inaugural cycle, July 2013 to June 2014. Along with Mahaffy, the artists are Cathy Cunningham-Little, Ricky Armendariz and Vincent Valdez. Blue Star's smallest gallery features a short documentary about the residency program and video recordings of the artists talking about their residencies.
"Künstlerhaus Bethanien is the biggest and most famous of the artists' residences in Berlin," Jansen said during a tour of the exhibit at the Blue Star. I wanted to give San Antonio artists a window to the world. Berlin has become a magnet for contemporary artists, and I thought it would help local artists to get away from their focus on San Antonio and see what the rest of the world is doing." Cunningham-Little compared Berlin's art scene to New York in the 1950s, when American-created abstract expressionism turned the city into the world's art capital.
"There are so many young artists flocking to Berlin, it's just amazing," Cunningham-Little said in a phone interview. "I was there from October to December so I was able to experience the holidays. It was a fabulous place to walk around and the museums were fantastic."
Cunningham-Little creates amazing, boldly-colored light sculptures using white LED lights and dichroic glass, made by stacking layers of glass and micro-layers of metals or oxides to produce brilliant colors similar to a prism. With the lights off, all you can see are pieces of glass attached to the wall. But with the lights on and shining through the dichroic glass, stunning colors and patterns appear. Resembling a stained-glass window, Architectural Tectonic was inspired by the Kaiser Wilhelm Memorial Church, a 19th-century structure that was badly damaged in a 1943 Allied bombing raid.
"Angelika has an apartment that overlooks the church," Cunningham-Little said. "They've left the bombed-out part standing as a memorial and built new buildings around it. There's so much history around every corner of Berlin. I didn't start out to make a stained glass pattern, but when I worked on it I was thinking about the church and the stained glass effect just happened naturally."
Colors and patterns are more dramatic and sharply defined in her other works, such as Mitosis, JuJu and Ascent, shown in Blue Star's darkened Project Space Gallery.
"When I went to Berlin, I thought I would find all kinds of newfangled high-tech equipment," Cunningham-Little said. "The language barrier made it difficult until an Israeli artist who was in residence at Künstlerhaus told me about a place with a clerk who spoke English. But when I got there, all I found was the exact same equipment I could buy in San Antonio. Globalization had struck again."
Since his Berlin residency, Armendariz has been trying to go back as much as possible. Recently, he tagged along with Ron Binks, who has been taking his University of Texas at San Antonio students to Germany for years. Armendariz plans to take over the program when Binks retires.
"I went to Berlin with the intention of dealing with border issues, but once I got there I realized it didn't matter," Armendariz said in a phone interview on his way back from Berlin. "The Germans have a different attitude about their border than we do. We're in the zealous phase of keeping people out, but they want people to come and try to make a better Germany. They don't spend a lot of time worrying about the past."
click to enlarge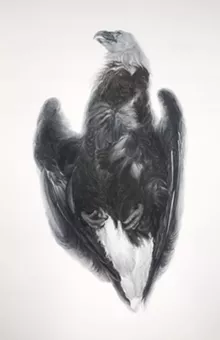 However, World War II tanks can still be found around the city and Armendariz created woodcut prints combining tanks with the ubiquitous graffiti that's everywhere in Berlin.
"Every wall from about six feet high down was covered with graffiti," Armendariz said. "But right behind the graffiti artists were the wheat paste artists, who would paste stuff over the graffiti. So my tanks look like they could be wheat paste designs and I asked a San Antonio artist, Christopher Montoya, to 'tag' my prints."
For most of the work in the show, Armendariz used his distinctive carved plywood panels and oil paint, although he drew from the classical myths that inform much of the public artwork he saw in Berlin.
"For example, in the Greek myth of Zeus and Callisto, he is usually depicted as a bull and she's a bear," Armendariz said. "So you see a bull and a bear, but it's not clear if they are fighting or making love. In another work, I use the coyote to stand in for Phaeton, who borrowed Zeus' golden chariot to drive the sun across the sky, but messed up, and Zeus had to kill him with a thunderbolt. I wanted to give some of our American myths a classical spin."
In Coyotes (Phaeton, Remix), you see the underside of a coyote falling out of a sky filled with stormy clouds and wracked by lightning.
Valdez kept a visual diary of his experiences in Berlin, small notebook-size drawings recording the famed U.S. Army "Checkpoint Charlie," a symphony orchestra, a jazz musician, a crumbling portion of the Berlin Wall and a sign at a train station near the Künstlerhaus. He is also showing two giant paintings – much larger than any he's shown in San Antonio before – of the folded body of an eagle and a man with a tattooed face, Metanoia.
"My time in Berlin was invaluable," Valdez said in his artist's statement. "My mere approach to painting has been greatly affected after obsessively studying closely the paintings of Gerhard Richter, Sigmar Polke, Anthony Van Dyke, Neo Rausch, Christian Schad, Otto Dix and George Grosz. As seen most specifically in Metanoia, a work in progress, my physical approach to applying paint to the canvas has been altered. The layering and mark-making process are now becoming as important as the portrait itself."
In his video interview, Valdez said he has spent years trying to "paint like he draws," but after studying the European masters during his Berlin residency, he wants to "paint like a painter."
"Back from Berlin"
$3-$5, Noon-8pm Thu, noon-6pm Fri-Sun, Blue Star Contemporary Art Museum, 116 Blue Star, (210) 227-6960, bluestarart.org, Through May 10