November 11, 2015 Slideshows » Arts
Saytown Texts: 28 Puro Emojis That Describe Life In San Antonio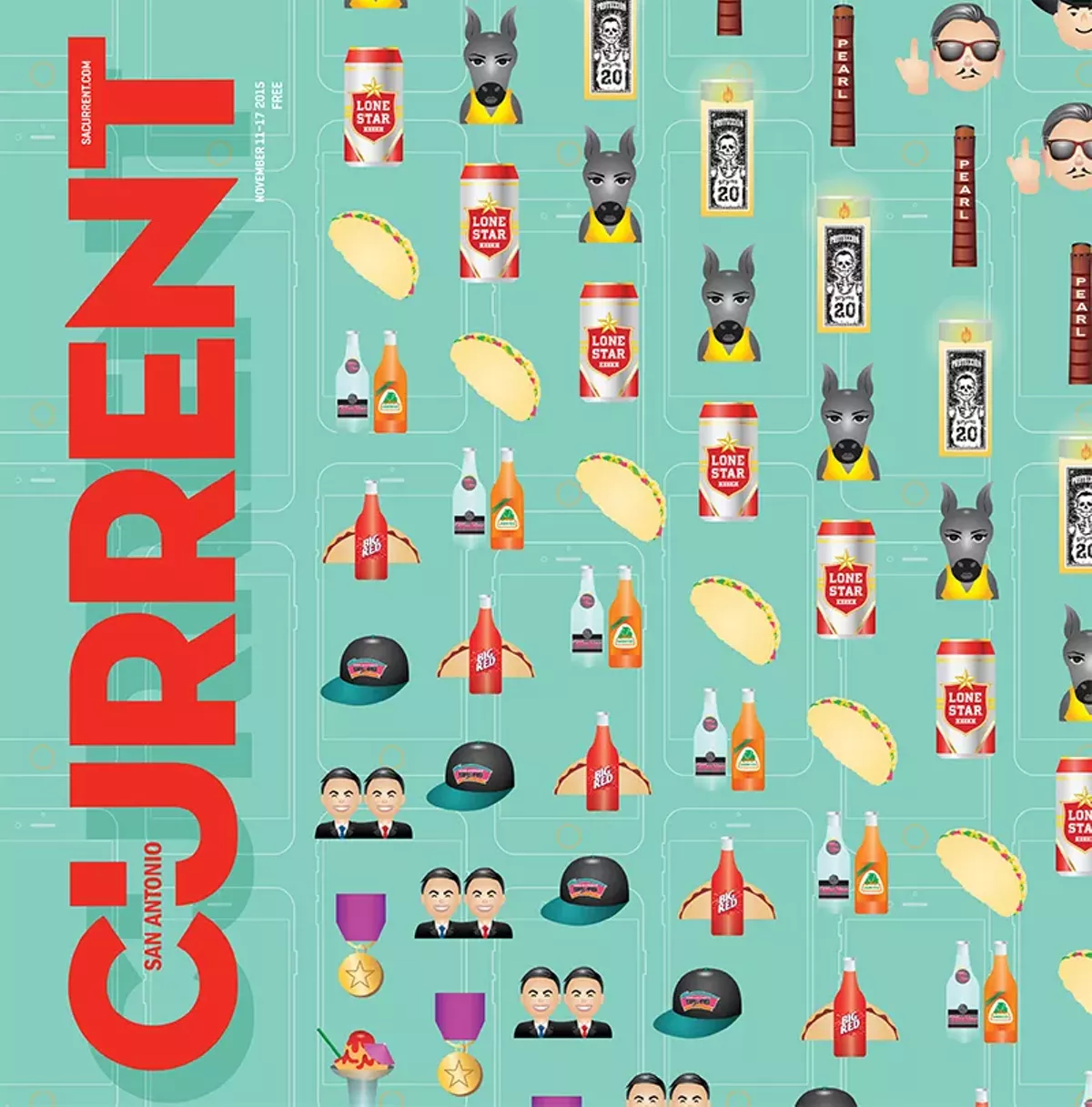 The Emoji Issue
Though we'd never advocate completely scrapping a traditional alphabet in place of Unicode's emoji keyboard, we can admit the shorthand smileys and the miscellaneous genres they come in help capture situations you can't quite put into words.
But while a quick thumbs up, goofy ghost, or wink-y face can convey plenty of universally understood messages (eggplant emoji, anyone?), be it through text or Snapchat, it's hard to communicate the intricacies and nuances of life in SA with the latest Unicode update. It needs a little Saytown flair — how else are you going to express Fiesta is but a few weeks away, or that the neighborhood pack of strays chased you on your way home? We've designed a new set of emojis to help describe San Antonio life with more ease. Don't see something integral to the 210 experience? Feel free to let us know what we missed.
Big Red and Barbacoa
When to use it:
Anywhere! Anytime! ALL THE TIME!!! (Or, for the less puro reader, Saturday and/or Sunday morning when your head is splitting and you feel like you're about to call the dinosaurs (ralph, upchuck, spew, vom-up, etc.). To combat said spewage, Friday or Saturday evening is also an opportune time for this emoji.
Stray Dog
When to use it:
The San Antonio Humane Society estimates that 150,000 stray animals wander the streets of the Alamo City. Employ this emoji when one canine member of that army decides to chase you on your bike for a few streets, causing detours and delays. Or, when an orphan dog does something oddly human, like looks both ways before crossing the street. Or, when you see an adorable pup roaming around that you just have to take in.
Ram Ayala
When to use it:
Punk icon, foul-mouth and Taco Land owner Ram Ayala is gone and, in some ways, so is the San Antonio he occupied. When complaining about double-digit drink prices in the Pearl, when you're about to do some punk-rock shit, when you pour several different liquors in the same bottle and call it "The Baby", when you absolutely have to call someone a pussy, give the Ram finger.
Topo Chico & Jarritos
When to use it:
The CDC reported this year that binge-drinking and hangovers cost companies about $807 per employee. It's no stretch to say that the entire San Anto economy would collapse if not for the bubbly kiss of Topo Chico, the ultimate resaca cure. In a rainbow of flavors, Jarritos makes for a lovely taco pairing. From guava to tamarind, drink it over plenty of ice. Use it when you're hungover and need some Topo relief. Use it when you crave a too-sweet pineapple Jarritos with that al pastor. Use it when there's a fresh pack in the fridge and all is right in the world.
Selena
When to use it:
Every fucking day. We know the tejano queen is from Corpus Christi. But Selena is woven into San Antonio's cultural fabric so intricately that if we took her out, the whole civic operation might fall apart. Get Selena into the text chain for those annual viewings of the biopic, which launched J. Lo's career. Or, when you're rolling through the neighborhood with the windows down flexing to "Amor Prohibido." Ultimately, the catchphrase from the movie applies to the emoji's use: "Anything for Selenas."
Lone Star Can
When to use it:
A staple of happy hours all over town, the 16-ounce can of cheap beer is ubiquitous in the Alamo City. From backyard barbecues to watching the Spurs (hopefully) steamroll their way through the season, this emoji will come in handy for all those parties, concerts and sporting events that San Antonians hold dear.
River Barge
When to use it:
With the additions of the Mission Reach and Museum Reach, locals can play on the river while avoiding a tourist-saturated River Walk. However, when family or friends who have never enjoyed the San Antonio River as it snakes through downtown visit, a ride on a barge manned by Rio San Antonio Cruises is typically on the to-do list. Use this emoji for anything River Walk-related.
Spurs "Fiesta" Logo
When to use it:
Used by the San Antonio Spurs from 1990 to 2002, the tricolored logo bid farewell to superstar David "The Admiral" Robinson and ushered in the era of the phenomenal Virgin Islander Tim Duncan. Its usage is a natural one, anytime there is anything Spurs-related use this throwback logo to show how true your love for one of the NBA's greatest-ever teams is.
Cedar
When to use it:
You know exactly when to use this one — nearly every damn day during cedar season. Central Texas' "cedar fever" is as regular as heat is normal. Nearly everyone suffers, from itchy and scratchy eyes to an ever-flowing amount of nose-goo that costs you an exorbitant amount in tissue expenses each year. There is no escape from this fine yellow pollen, so anytime you need to communicate how much allergies suck via an emoji (because you can't talk through the sneezing), this one's for you.
Tower of the Americas
When to use it:
Built for the '68 World's Fair, the Tower of the Americas defines San Antonio's skyline. It's the tallest building in the city (the 27th tallest in Texas) and is synonymous with downtown. Use this emoji to express a trip to the revamped Hemisfair Park, or really, for any trip to downtown SA Or, if you're more cynical, use this emoji when you're trapped in an elevator.
Davy Crockett Coonskin Cap
When to use it:
There is no modern equivalent to Davy Crockett. The myths surrounding the "King of the Wild Frontier" could not be concocted today. A bear-fightin', gator-wrasslin', hard-livin' sumbitch, Crockett is best-known around these parts for fighting and dying during the siege of the Alamo. As for the cap? Crockett's daughter Matilda recalled her father wearing it the last time she saw him, before he rode off to Texas. You probably won't reach the hyperbolic heights that Crockett did. But you can try. And when you do, the coonskin cap emoji is the one you'll want to use.
The Castro Twins
When to use it:
A quick and easy shorthand for San Antonio's most powerful twins. Both Congressman Joaquin and Housing and Urban Development Secretary Julián are rumored to be vice presidential candidates for Hillary Clinton. If it happens, you'll need this emoji. If it doesn't happen, you'll still need this emoji — because these guys aren't going anywhere anytime soon. Also a polite way to indicate that twins are creepy.
The Alamo
When to use it:
We live in the Alamo City — use it whenever you want. There is no inappropriate time for the Alamo emoji; the question is only how many Alamo emojis to use. Spurs win? Alamo emoji. Your car breaks down? Alamo emoji. Wanna get tacos? Alamo emoji. Ironically, since you probably only go to the Alamo when you have family visiting from out of town, you're least likely to use the Alamo emoji when you're actually visiting the Alamo. But it's OK to use then, too.
North Star Boots
When to use it:
These boots were made for shoppin'. Tap them into a text whenever you're compelled to grab an Auntie Anne's pretzel, get your eyebrows threaded, purchase a bright red Spurs hat at Lids, or relive your high school angst at Hot Topic. These 40-foot-high bipedal monuments represent everything there is to love and hate about going to the mall. Also utilize them when you are in desperate need of ostrich-skin boots (you just never know when they'll come in handy).
A Puffy Taco
When to use it:
When the craving for Ray's Drive Inn, Henry's Puffy Tacos or Los Barrios kicks in. When you're feeling extra puro. When you're enjoying a puffy taco and want to make your friends wildly jealous. Use it at the Missions game as you're about to chase down Henry the Puffy Taco and need all the positive vibes you can get.
Breakfast Taco
When to use it:
Specifically carne guisada with cheese, and bacon and egg. It's a damn shame the only taco emoji currently available looks like a crispy taco. Variety isn't only the spice of life, it's the essence of tacos that aren't restricted to crunchy shells. Send a few of these out come Saturday morning for either a mid-morning catch-up session or as a plea for taco delivery after a late night out.
Paleta Cart
When to use it:
When summer (read: anytime the temperature goes over 80 degrees) strikes and you're in need of a cool treat. Wave down the paleta man — there are still a handful of them left in Saytown — contemplate choosing between coconut, strawberry or chile-limón and go on your merry way.
Pearl Stack
When to use it:
Whether you're taking your pup on a walk through Museum Reach and ending at the Pearl, cruising the weekend farmers market with your stroller-strapped kiddo, or grabbing brunch at Boiler House, the Pearl stack now rivals the Friendship Torch, general downtown skyline and Quarry stacks for most iconic structure in SA. Use it when you're heading down to Emma's Larder, Supper or Sternewirth.
La Chancla
When to use it:
Spring/summer lasts something like 11 months out of the year, so as sandal season rolls around, bust out your sparkly flip flops (which often grow only more bedazzled as Fiesta grows near). Use it when you're getting your toesies done or when you need a roach squashed. San Anto moms, use this as a warning that kids (and certain adults) should know to heed.
Pink Concha
When to use it:
Baked fresh throughout plenty of bakeries around town, pan dulce conchas are making their way out of breakfast and mid-afternoon meriendas and into the burger game. The upcoming Con Safos at Yanaguana Garden will feature a burger sandwiched between a concha bun from Bedoy's Bakery, while Old Main Assoc. serves up a concha burger of their own using pink buns from Folklor Bakery on Ingram Road. We like to keep it simple and dip our conchas in either coffee or Abuelita hot chocolate.
Veladora
When to use it:
All day, every day? Got a big test coming up? Light a veladora. Got a job promotion on the line? Veladora. Spurs playing a big game against Cleveland and we need to make sure Manu stays healthy? Light a Manu-specific veladora designed by local artist Jamie Stolarski. At this point restaurants and bars far and wide are paying homage to their Mexican roots by lighting a few (dozen) veladoras to add an authentic feel. Buy them in bulk, funnily enough, at Target.
Ice House
When to use it:
When even the idea of another mezcal-rinsed, blasphemously bittered tiki-jito with a chicken liver garnish and paprika-powdered rim makes you want to puke from the audacity rather than abundance, or you're just tired of waiting for your bartender to climb down from the fourth floor of the bar's liquor shelf, take a cold one in at your local ice house.
Donkey Lady
When to use it:
Possibly the spirit of a woman freakishly disfigured in a fire, the anthropomorphic Donkey Lady has allegedly been haunting a South Side bridge for generations. Thrill-seekers brave (or stoned) enough to stop there for a spell and call out her name report everything from hearing the clip-clop of hooves to full-on vehicular damage. Arguably SA's quirkiest urban legend, the DL recently graced a rad BarbacoApparel T-shirt and even had her own phone number back in the '80s. Use this emoji when you feel like — or are dealing with — a vengeful ass in a dress or find yourself near Old Applewhite Road.
Badass Raspa
When to use it:
In perennially hot San Antonio, frozen confections are always in season. Amped-up takes on the sno cones of yesteryear, some of the creations coming out of specialty spots (such as Las Nieves, Chamoy City Limits and Big Daddy's Eats & Treats) turn shaved ice into an edible art form. A popular concoction, the mangonada or chamoyada varieties balance the fruity sweetness with a kick of chili powder and a sour punch of chamoy (a Mexican condiment made from pickled fruit). Use this emoji when an icy treat's the only way to beat the heat.
A "Dressed" Beer
When to use it:
Depending on your brew of choice, dressing up a bottle of beer with a spray of bar salt and a lime wedge (and maybe even a beverage napkin twisted into a little skirt) could be like putting lipstick on a pig. But when executed properly — on an ice-cold Dos Equis, Modelo Especial or almost any other Mexican cerveza — the salty/sour combo delivers a margarita-like sensation that's equally suited for barbecues and bar crawls. Use this emoji anytime you're ready to kick back with pals (day or night, we won't judge) or when a few cold ones is the best answer to the day's problems. Also: pairs well with ice house emoji.
George Strait
When to use it:
Anytime is a good time for King George. When/where it will realistically be used: The wedding day of the one that got away, the day your significant other files for divorce, when your dog dies, when your dad falls off the wagon, when your mom falls off the wagon, when you fall off the wagon, when your partner leaves you for your best friend, at any gay bar that has access to George Strait (trust me), as the last dance of every grade school function or anytime you just wanna get crunk in a redneck sorta way and scoot them boots. Word to the wise: Stick to the upbeat jammers because alcohol and George Strait are a slippery, heart-breaking slope.
Fiesta Medal/Cascaron
When to use it:
If your Fiesta medal addiction requires you to don a sash, you know that this San Anto-specific knick-knack is no joke. Use the emoji in advance of the Pindemonium at Alamo Plaza, or if you're hoping to trade a medal with your fellow pin-head. Much like Pokemon, you've gotta catch 'em all.
The Big 3: Manu, Timmy & Tony
When to use it:
Whenever the greatest and most acrobatic sixth man in the game checks in, joining Timmy and Tony and completing the trifecta of skill, talent and inspiration that is the most-winning threesome in sports history; when Tony feeds to Manu who delivers to Timmy within a hair's breadth of an opposing defender's outstretched mitt and The Big Fundamental finishes, demonstratively; when we take home our sixth NBA title and hoist that Larry O'Brien bling for all the world to bear witness to the greatest trio of ballers … ever.