click to enlarge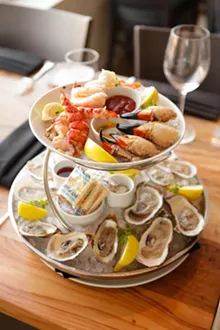 There were a few reasons why I may have been apprehensive about the Silo family's latest endeavor. Silo Terrace Oyster Bar, sister restaurant to Alamo Heights' Silo Elevated Cuisine/Nosh and a second eatery off Loop 1604, had a fairly innocuous opening this past November off I-10 and directly across from The Dominion. Immediate notions of stuffy patrons danced through my head, but I wasn't going to stay away from the eatery's selection of freshly flown-in oysters.
And to the eatery's defense, this iteration takes on a much more approachable spin. Parking is ample on weeknights and during lunch, but I expect that changes come the weekend as neighbor eatery Aldaco's draws in its own set of diners (coincidentally, that's also the third location for the local chain owned by Blanca Aldaco). Like its predecessors before it and like its name suggests, STOB features a terrace-level dining experience. It's easy enough to find the entrance—the gleaming walls of wine hold passport into the dining room via a tile-lined elevator.
The space, possibly 3,000 square feet of it, is just as posh as its sister locations with tiled walls and floors, which could come off as cold, but don't. Instead, Silo Terrace Oyster Bar is inviting, cool and comfortable and the scene persists from evening to daytime as the featured lighting keeps things bright at night and sunlight pours into the space during the day.
The almost freezing temperatures, along with the tiny monster known as cedar pollen kept us from sitting on the covered patio, but come springtime, the space will likely draw a bustling crowd if only for the oysters and sparkling wines.
There was a surprising amount of diners out on a recent Monday night during my initial visit. Considering how January can often be a slower time for eateries, the bustling scene was encouraging. Clearly the kitchen, open and steely, must be doing something right.
The dinner and lunchtime menus vary slightly. Dinner includes a daily prix fixe option complete with a mixed green salad, which includes a Maine lobster roll, Crystal Hot Sauce fried chicken, braised lamb loin, Florida stone crab, and fish and chips. Otherwise the rest of the offerings include selections from the cold bar, soups and salads, small plates, big plates, sharable sides and signature cocktails.
A note on the service staff: It would be easy for Silo to hire a slew of uppity, pro-servers, but that's not the case here. Instead, the staff expertly toes the line between consummate professionals, enthusiastic sales people and knowledgeable eaters. Our server turned us onto the tuna carpaccio made using a slightly thicker cut of fish and dotted with a hint of lemon-dill oil, topped with capers (which, let's face it, make everything better) and finely chopped radishes and parsley. Served with toasted bread rounds, the small plate can easily be shared with a group, and is just rich enough to get the meal started.
From there, my dining partner took aim at the lobster ravioli, while the shrimp fra diavolo called my name. When someone reviews restaurants for a living, it's easy to get into a culinary rut, but the pasta dish (created by chef Gary Boatman, previously at Silo Elevated Cuisine/Nosh) hit all the right notes with perfectly cooked shrimp, delicate squid ink tagliolini, and a mix of sautéed spinach, sun-dried tomato strips and diced zucchini. Across the table from me, my partner's ravioli was perhaps the only miss of the evening. Although the butter-poached lobster was superb, the pasta was on the wrong side of al dente, and could have used a minute more to soften the dough.
A lunchtime visit brought in more hits, with equally pleasant service, as a new dining companion and I shared an order of signature chicken-fried oysters on a bed of sautéed spinach and braised pork belly. The ingredients for the dish might not have been the newest or trendiest, but the execution was flawless. My companion enjoyed his lobster roll piled high on a buttery roll and mixed with mayo, chopped celery, a touch of tarragon, parsley and chives, though at $22, I can't say I was rushing to order it. My seared mahi mahi proved a suitable option, as a colorful display of layered tomato-fennel coulis, saffron rice and sautéed broccolini arrived at the table. The meaty mahi was flavored simply with a dose of salt and pepper, which showcased the dish's other flavors.
Silo Terrace Oyster Bar follows in the footsteps of its sister eateries, and nails food presentation, service and ambiance. I'll be making my way back to enjoy the patio and more oysters once cedar levels stop destroying my senses.
Silo Terrace Oyster Bar
22211 I-10 W, (210) 698-2002, silosa.com
The Skinny: Silo's third location lands in a stellar spot with a seafood-heavy menu, "oysterology" and comforting favorites.
Best Bets: Any and all seafood including oysters (duh), lobster roll, seared mahi mahi, tuna carpaccio
Price: $6-$35 lunch; $7-$39 dinner
Hours: 11am-3pm Mon-Sat; 5:30-10pm Mon-Thu, 5:30-11pm Fri-Sat; closed Sunday