Dr. Julius No
Dr. No
Life sure sucked back in 1962. Slavery was still legal, the world was reeling from the assassination of President Rutherford B. Hayes, and, since mankind was about five years from exiting the iron age, the best prosthetics available were made from cold, hard metal. After losing his hands in a radioactive experiment, Dr. Julius No gets stuck with clanky awkward replacements, which he is miraculously able to open and close, seemingly through sheer force of will. But No knows his limitations (gripping stuff, petting kittens) and always plays to his strengths (wildly chopping things, playing bloody knuckles), a quality that allows him to build a kick-ass island base with its own atomic-energy plant, fully functional mechanical dragon, and a fancy-pants mechanism that allows him to interfere with NASA space launches. And in case the whole world-domination thing doesn't work out, the doctor has branched out into the hospitality business, opening the world's first underground hotel/prison. Unfortunately, for all he's accomplished, No still falls victim to the occasional gloomy Gus. "Does the toppling of American missiles really compensate for having no hands?" Bond asks. No it doesn't, asshole, but thanks for reminding him. And, before you ask, those kids in the Special Olympics do realize they could run a lot faster if they didn't have leg braces.
click to enlarge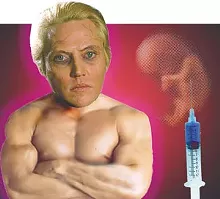 Max Zorin
A View to a Kill
Zorin, like one in 75 Americans, suffers from fetal steroid syndrome, an entirely avoidable condition caused by his mother's participation in a top-secret super-soldier breeding program while he was still in the womb. Side effects of the syndrome include extreme aggression, insatiable hunger for absolute power, and labored, unsettling Chrisopher Walken-like speech patterns and mannerisms coupled with an impressively 'roided-up Christopher Walken-like physique. Zorin, though, serves as an inspiration to us all. In an effort deserving of its own chapter in Chicken Soup for the
Supervillain's Soul, Zorin persistently pursues his aspiration to control Silicon Valley through a vaguely defined scheme that somehow involves making racehorses run faster by putting microchips inside of them. Did we mention that injecting massive amounts of steroids into an unborn child leads to irreversible brain damage? Fortunately, the frequency of this syndrome has decreased in recent years thanks to a public-service campaign warning women of the risks of becoming mad-scientist test subjects while pregnant.
click to enlarge
Karl Stromberg
The Spy Who Loved Me
Stromberg's syndactyly (webbed fingers) comes straight out of that book of birth-defect photos the high-school guidance counselor showed you to scare you off marijuana. But rather than curse his lousy Rastafarian parents, Stromberg sets out to "change the face of history," capturing Russian and American submarines with the help of his metal-mouthed henchman, Jaws (a profile in courage in his own right), in an attempt to trigger a nuclear war. With New York and Moscow nuked, Stromberg logically assumes, mankind will have no choice but to relocate to his underwater city, where his deformity becomes de facto natural selection at its finest, and the slightly faster swimming speed his webbed fingers might possibly provide will certainly make him king of the sea. Ironically, but no less inspirationally, Stromberg ultimately succeeds in bringing world peace closer, forcing British intelligence to cooperate with the KGB in order to take him down. His filthy pothead mom and dad would be proud.
click to enlarge
Francisco Scaramanga
The Man With the Golden Gun
Scaramanga, like so many of the differently abled, is often viewed only as a victim of his handicapability. "He's not like other people," explains his mistress, Andrea Anders, but she isn't referring to his signature 24-karat pistol, his superior marksmanship, his occupation as a million-dollar-per-hit hired killer, or his private island complete with operational fun house and tiny manservant. She's not even talking about his habit of using his gun as a sex toy during foreplay. (Note to impressionable youngsters: A gun is not a sex toy, even if it isn't loaded, unless it's been fitted with the French tickler adaptor kit, available at NRA.com.) She's talking about his third nipple. But Scaramanga courageously takes life's milk milk milk and makes lemonade. Despite his extra fun button, he manages to obtain the Solex Agitator, an experimental device that allows him to corner the global solar-power market, and then uses all that damn hippie sunshine to create the world's most kick-ass green-energy super-weapon. But he still faces bigotry. His client Hai Fat pulls out the old hurtful stereotype about tri-nipplers possessing "invulnerability and sexual prowess," and Bond shamefully poses as Scaramanga by attaching a fake "mammary gland" to his chest in a move advocacy group Three Cheers for Nipples describes as "exactly as offensive as simultaneously wearing blackface, denying the Holocaust, and defecating in the Pope's hat."
click to enlarge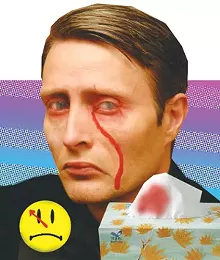 Le Chiffre
Casino Royale
Le Chiffre suffers from haemolacria, meaning he weeps blood, a rare but alarming condition that might be a disadvantage in most professions but is nothing but an asset for a supervillain. He's even
badass when he cries, for Pete's sake. For Le Chiffre, getting misty-eyed at the puppies on the soup commercial means leaking blood from his tear ducts like a cornered horny toad. And that's good, because he needs all the help he can get in the evil-intimidation department. His alias is French for "the number," because he uses his superior mathematical knowledge to manage stock portfolios for terrorist organizations, when he's not puffing on his inhaler. Basically, he's a mathlete who lets all the bad kids copy his homework. But when you're evil, having a bizarre condition like crying blood qualifies you for supervillain affirmative action, and in his brief stint as James Bond's sworn enemy, Le Chiffre manages to give the spy a bit of a deformity of his own. The blood-weeper savagely beats Bond's groin with a heavy knotted rope, giving him such a case of scrambled huevos, it's no wonder Bond's never been slapped with a paternity suit.
click to enlarge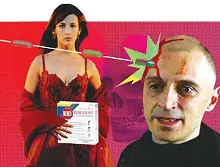 Viktor Lavrentievich Zokas and Electra King
The World Is Not Enough
Zokas (aka Renard the anarchist) is living proof of the old adage "what doesn't kill you will only make you stronger, at least until it eventually kills you." An MI6 agent shoots Zokas in the head, and though he survives, the bullet in his brain is inextractable. It slowly tunnels through his medulla oblongata, deadening his senses and hastening his death, not to mention leaving an unsightly bloody scab at his temple. But, on the plus side(?), he can't feel pain, which allows him to absorb Bond's alpha-male haymakers with nary a flinch, and gives him the nihilistic confidence to kidnap oil heiress Electra King and hold her for ransom. King's afflictions are even more unenviable, though. She forms an alliance with Zokas — which leads Bond to diagnose her with Stockholm Syndrome, that ailment the Patty Hearst Foundation dubs "the silent killer" — and in an effort to appear like a tortured victim of kidnappery, slices off the lower half of her right ear, rendering her incapable of wearing earrings and leaving Bond with only 331 erogenous zones to work with. Worst of all, her plot for world domination forces her to sleep with Bond. After 22 movies, averaging something like 2.75 sexual partners per film, that dude's gotta be wrangling crabs that could put Red Lobster to shame. •