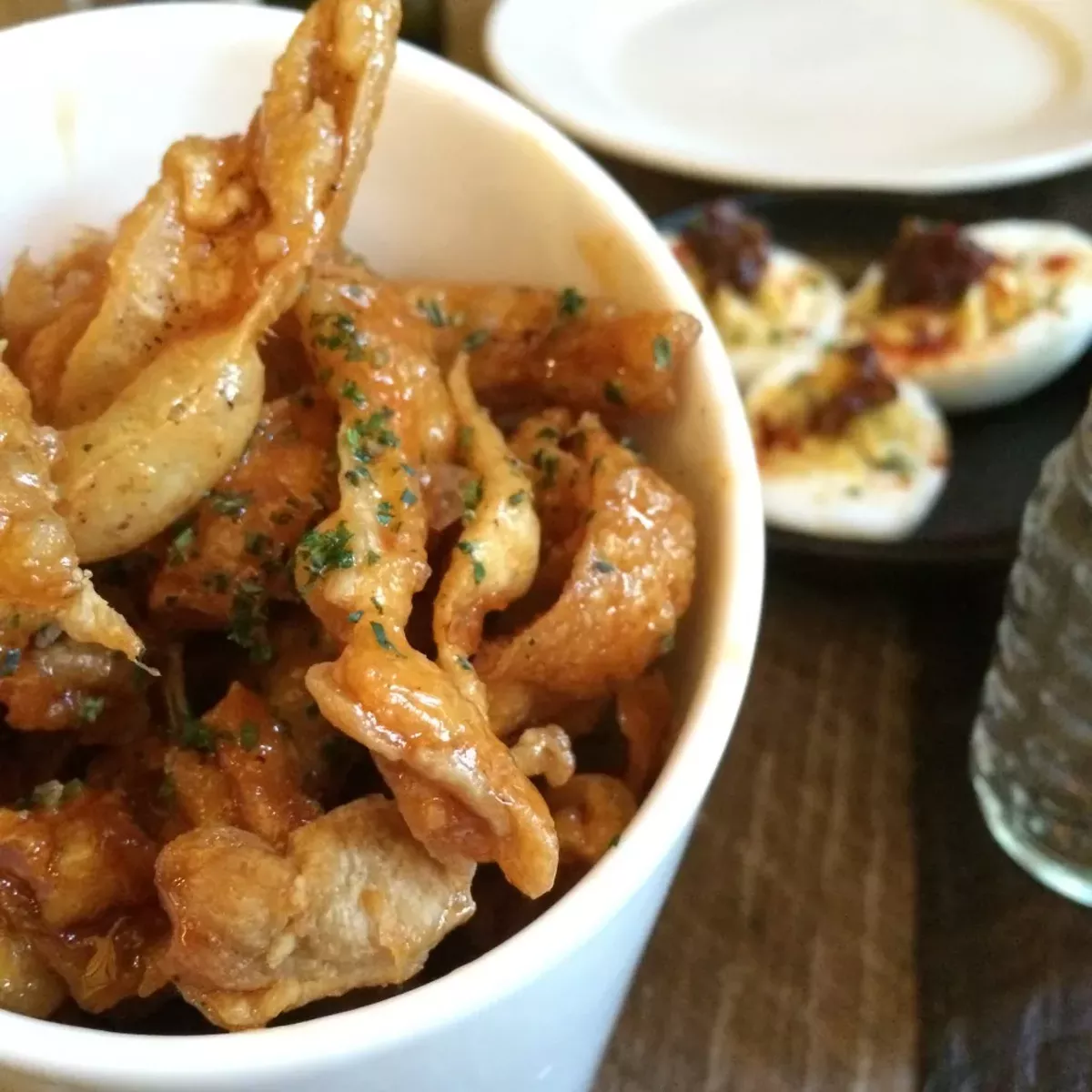 Chicken Cracklins
Southerleigh Fine Food & Brewery, 136 E. Grayson St., Suite 120, (210) 455-5701
Dongpo Braised Pork Belly
Sichuan House, 3505 Wurzbach Road, #102, (210) 509-9999, facebook.com/sichuaneats Pork belly is so 2000 and late (and so is this reference, sorry!), so when the braised pork belly was recommended by our server at Sichuan House, I was apprehensive to say the least. But her description of the dish reeled me back into the bacon — a massive slab of pork belly is fried, then steamed and later braised in the juices leftover from its earlier steam bath. The result, all tender and crispy bits of it, is a meal made for sharing with all your friends.
Chirashi
Niki's Tokyo Inn, 819 W. Hildebrand Ave., (210) 736-5471 There's nothing I want more in life than to share a meal with headwaiter and bow-tie fan Pat. Until then, I'll settle for just eating my chirashi bowl of fresh fish, squid, octopus and shrimp over perfect white rice while overhearing him chit-chat with other customers about NPR, his latest read or the weather.
Wurst Case Scenario
Cured, 306 Pearl Pkwy., Suite 101, (210) 314-3929, curedatpearl.com Variety is the spice of life, and at Cured, I know I can trust my cured, smoked, sous vide meats to chef Steve McHugh and his slew of cooks who rotate the Wurst Case Scenario sausage special almost daily. The seasonal and creatively prepared vegetables that come with it are an added, tasty bonus.
Coconut Ice Cream
Thai Thopaz 2177 NW Military Hwy., Castle Hills, (210) 290-9833
Buddha Belly "sliders"
Buddha Belly, 7331 N. Loop 1604 W., (210) 660-8460,facebook.com/buddhabellysa Think White Castle and you're halfway there, but instead of having to deal with the cold, bitter winters of the Northeast, you can pick up an order or six of these sliders from Buddha Belly, the sister truck to Singhs Vietnamese. Hardly handled but well-seasoned patties meet melted mozzarella and sweet grilled onions on a buttered bun for a truly enjoyable bite. Go. Get. Them. Now.
Mangonada Macaron
Bakery Lorraine, 306 Pearl Pkwy., Suite 110, bakerylorraine.com There was something pleasantly kitschy about Parisian macs trying to embody "puro" San Anto flavors. Kitsch aside, the flavors were on point and delicious.
Fried Bologna & Pimento Sandwich
Cullum's Attagirl 726 E. Mistletoe Ave., (210) 437-4263
Fish Tacos
Amaya's Cocina, 1502 E. Commerce St., (210) 265-5449 It's hard to get excited about fish tacos. Everyone's got some these days and not all are worth actually ingesting. This isn't the case for Amaya's, where the Arciniega/Herrera chef cohort takes their fish tacos to another level. Though iterations change often, the early spring rendition was filled with fresh greens and thinly sliced radishes that give these tacos a bite.
All of the gelato
South A La Mode Panini & Gelato, 1420 S. Alamo St., (210) 788-8000, southalamode.com To say I was anxiously awaiting the opening of this panini and gelato shop was a bit of an understatement. I'd been a fan since their early Quarry Farmers Market days and, thankfully, a permanent location has allowed chef Josh Biffle and co. more freedom to experiment with flavors. I'm a sucker for the cannoli and pistachio, but you can't go wrong with any of the flavors, if you ask me.
Pig Fat Beignets
Lüke San Antonio, 125 E. Houston St., (210) 227-5853
Ice Cream Sandwich
Gable's Ice Cream Sandwiches 9708 Business Pkwy., Suite 102, gablesicecream.com I've got a bit of a sweet tooth...And Fruity Pebble cookies were a thing.