click to enlarge
David Cobb

Third parties look to get into the thick of it in 2008
A week after the elections, President George W. Bush is spending his political capital, Democrats are still stumbling around like zombies, and third parties, accustomed to receiving votes in tenths of percentages, are reassessing their strategies for significantly denting the two-party system.
Nationwide, a record number of people - nearly 120 million - cast their ballots in this election, but the additional voters apparently didn't turn out in force for third-party presidential candidates. Ballot access, campaign funding, and the Anybody But Bush phenomenon prevented many national candidates from gaining the traction they needed to win more than 1 percent of the popular vote.
Granted, votes aren't the only method of gauging third parties' success. During his campaign, presidential candidate David Cobb vowed to grow the Green Party membership, and he accomplished that goal: The number of registrations increased to about 311,000 in 22 states, and nationwide the party picked up another 61 offices over the last election.
"At this point, we're not running presidential campaigns to win them," said Don Cook, Texas state coordinator for the David Cobb/ Pat LaMarche campaign. "It's an advertisement to make people aware of the possibilities."
According to preliminary election totals, Cobb, a Texas native, won 106,859 votes nationwide and appeared on 28 of 51 state ballots (including the District of Columbia). He was a write-in candidate in the other states, including Texas, where all the write-in ballots hadn't yet been counted as of November 8.
Cobb received just over $133,000 in campaign contributions, compared to Bush's $360 million and John Kerry's $317 million, according to the Center for Responsive Politics.
Although they fielded a candidate who once promised to blow up the United Nations building if he became president, the Libertarians held their own with Texan Michael Badnarik. He received 382,310 votes, about 2,000 fewer than presidential candidate Harry Browne garnered in the last general election. This year, the Libs collected enough signatures to qualify for the ballot in 49 states and Badnarik generated $841,000 in campaign contributions.
"We're the strongest third party in America," said Kris Overstreet, media coordinator for the Texas Libertarian Party. "Badnarik did as well as could be expected. He was a great communicator."
Independent candidate Ralph Nader, whose name appeared on 35 state ballots, received 404,178 votes, although he is filing for recounts in several places. In 2000, Nader ran on the Green Party ticket and won more than 2.8 million votes. The shortfall wasn't only in the voting: This year, Nader received $3.9 million in campaign contributions, compared to $8.4 million four years ago.
Ballot access proved to be Nader's undoing, as his campaign diverted money and manpower toward lawsuits it filed to get on state ballots. "There was an opportunity to talk to Americans, but we weren't able to get the message out," said Kevin Zeese of the Nader campaign.
Although third-party candidates were excluded from the three televised national debates, Cobb, Badnarik, and Constitution Party candidate Michael Peroutka appeared in a lengthy segment on the PBS program NOW With Bill Moyers. C-Span also televised a Cobb/Badnarik debate.
Nader made the rounds of Sunday morning political programs and late-night talk shows, but his anti-corporate, anti-war message was drowned out by the Democrats' cries that Nader could spoil the election by skimming off liberal votes, as many consider he did in 2000.
click to enlarge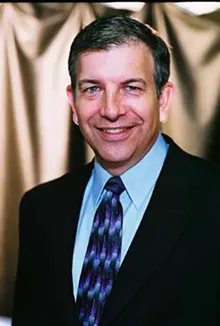 Michael Badnarik


Zeese blames the media and the Democratic Party for claiming that Nader was in bed with Republicans. In several states, the GOP supported ballot access for Nader in hopes of siphoning votes away from Democrats. In other states, Nader was kept off the ballot by arcane access laws.

"The civil libertarians were silent when we couldn't get ballot access, Zeese said. "I think that's pretty disgusting; it undermines their credibility."

Yet, the fracas over Nader's candidacy enabled the Greens to shake its spoiler image. "The next four years are golden for the Greens because the spoiler thing is not over us," said Cook. "That caused external and internal problems."

However, the Greens continued to battle division within the party as former Green Peter Camejo joined the Nader ticket as the vice-presidential candidate. "That emphasized our inability to know which direction to go in," Cook said. "Personally I would have no problem with a reconciliation with the Nader people. But I supported David and I wanted to see the Green party establish its independence from Nader."

In retrospect, Cook said he regrets that the Greens didn't promote interstate vote trading, like they did in 2000. Over the Internet, voters in decidedly "red" or "blue" states where the electoral college was a foregone conclusion cast their ballots for Nader so their swing state counterparts could vote for Gore.

This year, Cook said, "People were so frightened by the specter of Dubya they immediately threw down any possibility of a Green vote and went to Kerry."

Over the next four years, Greens will continue to work on winning local and especially state elections, in which getting 5 percent of the vote in a race gives the party instant ballot access. Cook said party members will also look into election fraud and integrity issues, as well as instant runoff voting, which allows voters to rank their candidate preferences.

Moderate Republicans and traditional conservatives - fiscally frugal, but socially more progressive - could be a source of new Libertarian Party members. "We need to be more open to moderate viewpoints," Overstreet acknowledged. "We need to work on broadening the appeal."

As for Nader, it is unknown whether he will try again and, if so, claim a party affiliation instead of running as an independent.

"Third parties have been the key to so many issues: the abolition of slavery, Social Security," said Zeese. "We need different voices. The two parties are melding more and more together." •

How third-parties fared in state and local elections
| | | | | |
| --- | --- | --- | --- | --- |
| Candidate | | Texas | | Bexar |
| Michael Badnarik (LIB) | | 38,683 | | 2,662 |
| David Cobb (GRN) | | 595 | | 41 |
| Ralph Nader (IND) | | 5,035 | | 372 |
Compared to major parties
George Bush (REP)
4,518,491
259,762
John Kerry (DEM)
2,825,723
210,354
Source: Texas Secretary of State, Elections Division
By Lisa Sorg