December 19, 2016 Slideshows » Arts
The Best San Antonio Desserts We Ate in 2016
After a year's worth of satisfying our sweet tooth, here's what stuck out as 2016's best treats.
Photos by Jessica Elizarraras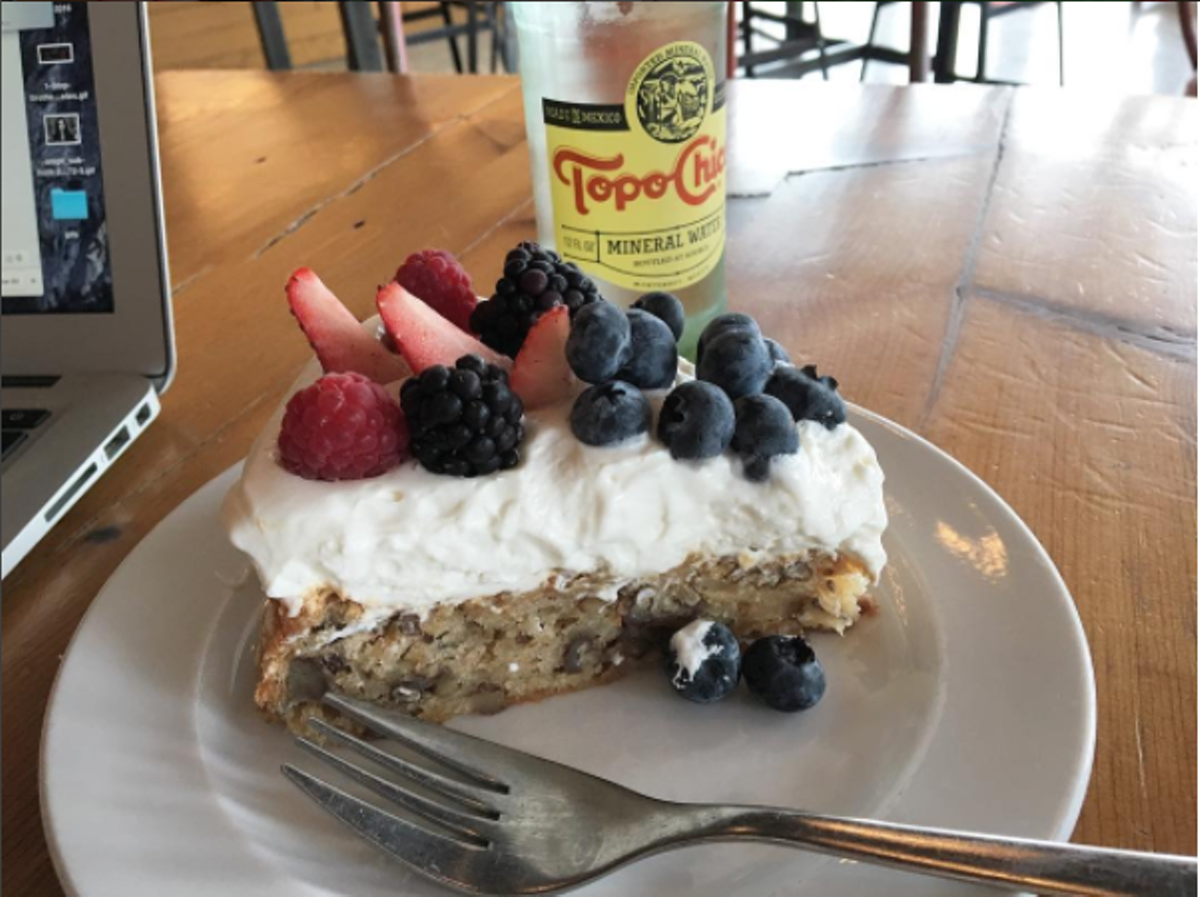 Suspiro Cake from Cuppencake
22211 W. I-10, Suite 1111, (210) 892-3010, cuppencake.com
The delicate meringue frosting topped with fresh berries saved me from some of the worst rush hour traffic I've ever been stuck in. The moist cake below helped keep this dessert from getting too sweet.
Chocolate Acai Bowl from Rise Up Beverages
2202 Broadway, (210) 268-8009
There's a few asterisks on this list. Technically, this bowl shouldn't be considered dessert. If anything it's an early morning post-yoga breakfast, but considering how tasty, filling and chocolate-y so we're putting this one in the dessert pile.
Goat Cheese Caramel from Alamo Gelato Company
1420 S. Alamo St., (210) 788-8000, southalamode.com
The best gelato maker in San Antonio continued having fun with ingredients this year. They'll be going on winter hiatus soon, but if you get a chance to try this variety that mellows out the harshness of goat cheese with hints of sweet caramel.
Hong Kong Waffle cone from Paciugo's
999 E. Basse Road, Suite 197, (210) 832-8820, paciugo.com
Paciugo stepped up its vessel game by adding bubbly Hong Kong waffles to their lineup this summer. It made for fun combinations and the cake batter held the right amount of vanilla to complement most of their flavors.
Hong Kong Waffle from Ming's Thing
The Pearl Farmers Market, 5249 McCullough Ave., (210) 570-6318
Before Paciugo rolled up their waffles and topped them with ice cream, Ming's Thing was serving them up hot at the farmers market with a drizzle of maple syrup, flurry of powdered sugar and a dab of butter. More breakfast than dessert, but sweet enough to make this list.
Lavender doughnut milkshake from Honeysuckle Tea Time
honeysuckleteatime.com
One of our favorite pop-ups this year could only be labeled as one thing: extra. Sarah Hinojosa and her team at catering company Honeysuckle Tea Time dazzled us with tea-infused baked goods that topped creamy milk shakes. But that wasn't enough: the shakes were also topped with chocolate bark and meringues because when it comes to dessert, more is always more.
Matcha Cake from Jenn Riesman at Hotel Emma
136 E. Grayson St., (210) 448-8300, thehotelemma.com

The best addition to San Antonio via Hotel Emma is pastry chef Jenn Riesman. Her desserts, found at Larder and Supper, are dreamy. Period. From the toffee rice krispie treats to flaky handpies, Riesman just gets what we're in the mood for. One of her biggest hits was a balanced matcha cake during one of Supper's monthly pop-ups.
Sawdust Pie from The Bread Box
555 W. Bitters Road, Suite 115, (210) 277-8612
Yes, the bakers at The Bread Box are bringing Bambino Hueys back in vogue, but have you had the Sawdust Pie? Described as the lovechild of a pecan pie and cake, Sawdust Pie lets you never have to choose between your two great loves (pie v cake) ever again.
Snow White donut from Art of Donut
24188 Boerne Stage Road, facebook.com/theartofdonut
No, 2016 didn't completely suck. We got our first doughnut trailer. The Snow White variety with raspberry and strawberry icing was extra fruity and bright.
Strawberry Banana Paleta from Paleteria San Antonio
510 S. Alamo St., Suite 104, (210) 954-6753, paleteriasanantonio.com
Paleteria San Antonio is kind of the perfect combo of old and new San Antonio: a beloved summer (read: 10 months out of the year) treat stationed at Yanaguana in Hemisfair Park. And the hand-crafted flavors don't disappoint. The strawberry banana kept us cool for the summer.