click to enlarge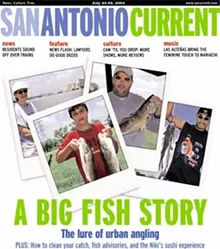 The
Glorified
Cook

By Elaine Wolff

Chef Mark Bliss
reflects on
the Tower,
presentation,
and living
the good life

Mark Bliss seems a little weary. Deepening creases frame tired blue eyes, and underneath the wavy blond hair and scattering of freckles that cast him as the quintessential California surfer, his pallor is a bit ashen. He is as personable as the reputation that precedes him, but his subdued demeanor is that of a man who has suffered a recent defeat. His father has been in the hospital, but Bliss is carrying another weight as well. On March 4, the City Council awarded the restaurant contract for the Tower of the Americas to Houston-based Landry's. Bliss' employer, Frontier Enterprises, owner of the Jim's restaurant chain and operator of the Tower for the past 35 years, must hand over the unique and complicated venue in five months.

When Bliss joined Frontier almost a year ago, eyebrows around town were raised. Could the closest thing San Antonio has to a celebrity chef be able to bring some culinary style to the over-priced Jim's-in-the-sky? That was the challenge that drew Bliss to the job, as well as the financial stability and support offered by a large corporation. Initial reviews of the restaurant were not favorable, and observers speculated that Frontier wasn't willing to invest the additional resources needed to turn the tourist trap into a pinnacle of good, if not fine, dining.

"My goal was to go in there and not immediately turn it into something else," Bliss says, "but once I got the contract, to turn it into something that would be very distinctly San Antonio." Bliss says he had developed three different concepts for the Tower, all responsive to Mayor Ed Garza's push for healthier diets in the Alamo City.

Could the closest thing San Antonio has to a celebrity chef be able to bring some culinary style to the over-priced Jim's-in-the-sky?


"My biggest disappointment in not getting the contract with the Tower is that I've been cooking here so long and I think I have a pretty good understanding as to what people enjoy and what they like. I had a really cool menu developed. It was very South Texas regional, and we're actually going to incorporate some of those things in the five months that we have left."

Bliss was just window dressing, goes one version of the story. But the Sacramento native - who's really more of a ski dog than a surfer boy - doesn't talk like a hired gun; he sounds like a company man ready for the next project. "We did a presentation that I thought was just stellar," he recounts, wistfully describing a special Tower-inspired dessert (pastries are an admitted weakness and he worked for two weeks straight on it) and the interactive, educational display they planned for the lobby.

Bliss won't be leaving Frontier anytime soon, he says. There are two Jim's locations that have not been as popular as they used to be, and Bliss likes the idea of dressing up a pedestrian menu while retaining its broad appeal. "I'd like to be able to do something a little more simple and eclectic with it. Maybe a little less like a coffee shop, do something more fun." The clientele would be the same, he says, but with an eye toward attracting younger families.

click to enlarge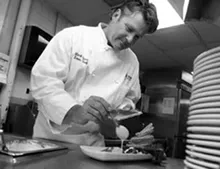 Executive chef Mark Bliss of the Tower of the Americas puts the finishing touches on a signature plate. (Photo by Mark Greenberg)


Still, fans of fine dining in San Antonio wonder why this protégé of Biga's Bruce Auden doesn't open another restaurant of his own, similar to Silo on Austin Highway. "He's got great creativity, great tastebuds, fantastic personality," says Auden, who first hired Bliss on opening night at the Fairmount Hotel. Auden, whom Bliss describes as coming from the French school of "yelling at people if they don't do something right," and the amicable prep cook with no formal training developed a deep respect for each other's talents. When Auden opened the original Biga, he hired Bliss - who had meanwhile opened at Pour La France.

In addition to Bliss' ability to adapt to any kitchen situation, says Auden, Bliss also lightened the inherent tension of the business by clowning around. "At the old place, we used to have a double-door freezer that, when you open it, all the condensation drops to the floor," Auden recalls, "so that it looks like one of those fog machines on stage. So whenever he'd go by the freezer, he'd start acting like a rock star." Bliss is also infamous for sticking jicama up his schnoz to comic effect, and using fresh fish in difficult-to-describe hijinks. "The sort of thing that embarrasses his family," Auden says, but that the staff loved.

But Bliss, who learned the trade as an apprentice in kitchens throughout town - and who applied for his first prep cook job wearing a three-piece suit - is also a great mentor, says Gus Ortiz, who took over as Executive Chef at Silo when Bliss left. "Great attitude is one of the main things about him," says the quiet Ortiz. "He never minded showing me all the details." And when Ortiz' turn came to step up to the plate, Bliss helped convince the Mexico native that he was ready for the spotlight. "He was just really hands on, really gifted," Bliss recalls of Ortiz, with whom he worked for almost 14 years. "When you find people like that, it makes you happy to go to work. It makes it worth your while."

"Doing your own restaurant is not the easiest thing in the world ... I've had a lot of ideas that I would like to do, but you've got to weigh it: What do you give up?"
— Mark Bliss


Although it gave him his big break, Ortiz was disappointed when Bliss left Silo to do private parties. "He always loves those parties," Ortiz says with a big grin. It was Bliss' six-month stint working for people like Tommy Lee Jones that helped create his reputation as a chef who likes to party as much as he likes to braise - one of his specialties.

"I'm a glorified cook," Bliss says. "If I put my mind to it, I can work as hard as anyone else as far as putting in the effort, but I can also sit back and enjoy myself." Bliss says he enjoys food as part of a well-rounded life, and the 43-year-old father of a 16-year-old and an 11-year-old is also enjoying some long-overdue parenting time. "Doing your own restaurant is not the easiest thing in the world. Everyone's always saying, 'fine dining this, fine dining that ... I've had a lot of ideas that I would like to do, but you've got to weigh it: What do you give up? Would I `be` able to have the lifestyle I want to have to enjoy my family? That's pretty important to me right now because I missed it for so long." • ` By Elaine Wolff `





| | |
| --- | --- |
| | click to enlarge |
FEEDback

Question of the Week:

What do Democrats and Republicans eat?

Send your reply to:

Foodie@sacurrent.com


Have a favorite restaurant you've been dying to see reviewed in the Current? Want to let everyone know about the great dish you can't find anywhere else in San Antonio? Know about upcoming food events and festivals? We want to know too. Send your tasty tidbits to Foodie@sacurrent.com.