Six years and innumerable breakfast tacos later, Artpace Executive Director Kathryn Kanjo is packing her moving truck for Santa Barbara, where she'll assume directorship of UC Santa Barbara's University Art Museum. In addition to an ocean view and a more liberal political climate, Kanjo also gains the excitement of being part of a collecting institution. But, she says, she'll miss the uniquely nurturing local artists' community, her team of co-workers, and that traffic-stopping Lack's Building installation by Artpace resident Anton Vidokle - in a fittingly bittersweet note, the bright graphic symbols are coming down as Kanjo is packing up the ceiling-high bookshelves in her Artpace office. She took a moment away from her moving preparations to talk about her six years in San Antonio.
click to enlarge
Do you think the way Artpace does residency programs has affected residency programs elsewhere?
It's curious, because we do get calls from people who are trying to learn a model for residencies. Artpace's is very particular, because it's not solely a retreat; it's not just about getting away and creating, because the second component is the exhibition. So I think that that's our hallmark: We treat both things with respect and kind of a parity. We receive funding from the Nimoy Foundation - which is Leonard Nimoy and his wife - who feel that artists aren't being supported in as many ways as they used to, so they fund residencies. I've been on that panel in the past `and` it's interesting ... to see people talk about what they think a residency is or should be. I heard from the other panelists that they don't want it to just be coming in and making work in a place; they want to somehow have the process be affected by the place. Which doesn't mean it's site-specific necessarily, but the fact that you are somewhere else, or that you had that much time, or the fact that you have the context of the institution - that somehow they're wanting that to impact the product. So I think they're more and more looking to focus on what it does for the artist, whereas maybe in the past it was easier for a museum to think opportunistically for the museum `i.e.`, I've got this giant wall in the lobby and I want to fill it with something, this is more like, what do the artists need right now? I think people are thinking more that way.
click to enlarge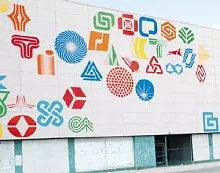 Artpace resident Anton Vidokle's Lack's Building installation, center, and Artpace curator Kate Green's picks for the Hudson (Show) Room
That leads into a topic that you and I have discussed before when we talked about Jeremy Deller and some of the other Artpace residents who have done pieces about Texas: What about Artpace affects the artists most? Or is it too difficult to tease that apart?
I think that's the type of question we try to ask ourselves. I think it's time as much as it is place. I think it's the lack of structure as much as it is the regulations that we do put down. I think it's allowing them to work outside of what has become a very market-driven art world and to create without restriction. Texas is a forceful identity myth and reality and it will become fodder and content for a number of the artists, but I don't think that's really the spark for the artists; I think the spark for the artists is having that time and freedom to experiment.
click to enlarge
John Pilson
I've been in Texas 20 years, and I think about how Texas has maybe changed me as a female, how I act as woman - if maybe that's different than how I would be if I had stayed in Minnesota. Do you think Texas has changed your personality at all?
There's so many types and stereotypes and expectations of Texas - one model is the incredibly strong Texas woman, and you see it in the art world. Obviously, our founder, Linda Pace `is one`, but if you look at the Menil, I look at some of my colleagues `and` there are these arts professionals, and artist, and art-patron role models out there, which maybe is counter to the expectation from outside of Texas. You know, Texas women are more traditionally bound, more conservative, or less risk-taking - I haven't found that. That might be because I'm in the art world, where risk and creativity are celebrated, but I've had some pretty impressive Texas female role models.
click to enlarge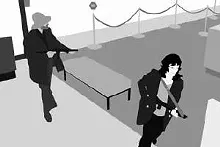 Kota Ezawa
Are there particular lessons you'll take from Artpace to your new position?
Artpace has achieved what it does, of course, because of the artists. So that emphasis and that kind of primacy of respecting what it takes - it's so bold to decide to be an artist, to put yourself out there and create and try to envision a new world. So there's that: the respect for the artist and the creative process. But again, what happens here occurs because of the staff, and we're a mighty team. So I would look for both of those things: thinking of the artist as an individual, but then thinking of the staff as a team, so I hope I would take that with me to Santa Barbara, to put together a team that can really support the vision of the artists.