click to enlarge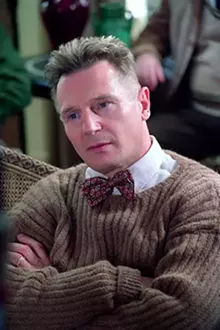 Liam Neeson portrays Alfred C. Kinsey, the controversial entomologist and chronicler of America's sexuality, in Bill Condon's sympathetic film.

Alfred C. Kinsey pried open Pandora's Box and we are still feeling the repercussions
In 1948, publication of Sexual Behavior in the Human Male, a sober study of American erotic practices, brought instant infamy to its author, a Hoosier academic named Alfred Kinsey. In Bill Condon's sympathetic biopic, Kinsey is accosted by a horde of reporters eager to pursue the naughty news that a scientist has dared investigate the varieties of libidinous experience. "Any thoughts on a Hollywood film?" asks one. "I can't think of anything more pointless," replies the fusty professor.
In 2004, "moral values," defined almost exclusively in terms of homosexuality, abortion, and Janet Jackson's breast, dominate political conversation, and the point of a film about the pioneer sexologist is sharp enough to puncture the premise that ignorance facilitates bliss. Kinsey, played by Liam Neeson, is a professor of zoology who specializes in gall wasps. He is induced to extend his research to wingless bipeds of his own species when, asked by a flustered student couple for marital advice, he realizes that what they do not know does hurt them.
"We know so little about what people actually do," says Professor Kinsey, known around Indiana University as "Prok," and he sets out to remedy that. Assembling a staff of devoted assistants, he crisscrosses the continent collecting data on what people say they do with others and themselves. "I hear America singing," proclaimed Walt Whitman; Kinsey heard America coming, or at least talking about it. In the film, a multitude of moving mouths superimposed over a map of the United States conveys a sense of the poetry in Kinsey's epic task. By the time his second book, Sexual Behavior in the Human Female, appeared, three years before his death in 1956, Kinsey had interviewed more than 18,000 informants.
click to enlarge



In the 1998 Gods and Monsters, Condon dramatized the final months of James Whale, who directed Frankenstein. The men who set out to smash taboos about discussing sex were both gods and monsters, valiant champions of enlightenment who also messed up many lives, including their own. The Inner Circle (Viking), a nonfiction novel by T. C. Boyle that covers much the same ground as Condon's film on Kinsey, takes a darker view, portraying the Institute for Sex Research in Bloomington as a cult whose charismatic, zealous leader pressures members into dangerous endeavors. By contrast, Kinsey, while acknowledging Prok's flaws and blunders, is largely a celebration of the man who, along with Hugh Heffner, Lenny Bruce, Barney Rosset, Henry Miller, and other guerrillas in the post-war sexual revolution, made it possible to see an R-rated film such as Kinsey 50 years later. It concludes with an idyllic walk in the woods, as Prok, his life's work done, stops off en route to the San Francisco airport to gaze in wonder at huge sequoias. No matter that Marin County, where Muir Woods is located, is quite out of his way to the airport; the majestic trees provide a valediction and validation to Alfred Kisney's life.

However, candor cannot even now claim unconditional victory. The film has become the target of an organized boycott. Generation Life, a national youth organization that is dedicated to chastity and claims to consist of "virgins and renewed virgins," has picketed screenings. Even before the film opened, Robert Knight, director of the Culture and Family Institute of a group that calls itself Concerned Women for America, excoriated Kinsey as "the godfather of the homosexual activist movement, the campaign to mainstream pornography, and even the campaign to strike down abortion laws." Though other current films offer more flesh, it is Kinsey that most offends the religious right because it is a sympathetic account of how Dionysus supplanted Victoria as monarch of American culture.

The Inner Circle
By T.C. Boyle
Viking Books
$25.95, 418 pages
ISBN: 0670033448


Though he stirs up a hornet's nest of opposition, Liam Neeson's Kinsey, an entomologist who collects more than a million specimens of wasp, is a beguiling innocent whose open, direct, unblinking gaze compels trust. A virgin at the time of his marriage to a former student, Clara "Mac" McMillen (Linney), Kinsey grew up within an austere Methodist household dominated by a father (Lithgow) who believed that newfangled inventions such as movies, telephones, and zippers are agents of sin.

A taxonomist at heart, Prok extends his method of classifying insects to homo sapiens. "Human beings are just bigger, slightly more complicated than gall wasps," he observes. For all his erudition about genital stimulation, Prok is naïve about worldly matters, inept at inducing philanthropists to part with their funds and at keeping politicians from pillorying him. Performing an experiment in masochistic pleasure, he cuts his own foreskin. "I wanted to try to understand," he explains to Mac when she finds him in the bathroom, bleeding and embarrassed.

If Condon's Kinsey is a wide-eyed innocent uncorrupted by the bars, prisons, and brothels that he visits for his work, Boyle's is a cunning impresario. The Inner Circle is narrated by John Milk, a student in Prok's controversial college course in conjugal relations whom he recruits as a

Kinsey
Dir. & writ. Bill Condon; feat. Liam Neeson, Laura Linney, Chris O'Donnell, Peter Sarsgaard, Timothy Hutton, John Lithgow, Tim Curry, Oliver Platt (R)


research assistant. In awe of Prok, Milk allows himself to be controlled and manipulated. Clyde Martin (Sarsgaard), Milk's counterpart in the film, entices Kinsey to try sex with him and then takes up with Kinsey's wife. But in Boyle's book (which could not have been published in the United States in the pre-Kinsey era), it is Kinsey who seduces his assistant and choreographs liaisons involving combinations of his assistants, their wives, his wife, and himself. Nothing that is human or even bestial is alien to Condon's nonjudgmental Prok, who strains to maintain professional detachment even while interviewing a prodigious serial pederast. However, Boyle's Kinsey acts out of prurient interest as much as scientific curiosity when he organizes orgies and records them on film. Robespierre of the sexual revolution, he nearly destroys those he frees.

Though the narrator tries to remember Prok as "one of the great original geniuses of the 20th century," John Milk's caustic wife, Iris, does not let him forget the damage her husband's mentor caused their marriage. The Inner Circle is more disturbing than Kinsey, but both novel and film offer variations on the book of Genesis, where toxic fruit grows on the Tree of Knowledge. For Kinsey, the quest for forbidden knowledge was the ultimate in eroticism. •