click to enlarge
Lanier Voks fans cheer their team, which led most of the game before losing to Fox Tech 26-16.
On October 28, the Fox Tech High School class of 1966 held its 40th reunion and decided to invite the Lanier graduating class of the same year. The theme agreed upon by the two sets of alumni: Finally friends. If these people had found themselves on the same dance floor 40 years ago, the body count would have been substantial. A Fox Tech-Lanier party in 1966 would have surely ended with black eyes, hard feelings, speeding ambulances, and plenty of shouted allegations about paternal legitimacy.
Gene Garcia, a class of '66 Fox Tech alumnus and treasurer of the Fox Tech Ex-Students Association, remembers that in his time, when the two schools met in the final game of the football season, students would routinely stone each other's buses and tag the opposing school's campus with graffiti.
"I grew up on the East Side with gangs around, and it was a turf thing," he says. "It was, 'If I see you stepping on my turf, I'm going to hurt you.'"
The hatred between the schools has dissipated with time, but the rivalry shows no signs of letting up. On November 11, Fox Tech and Lanier met in the 64th Annual Chili Bowl game, a San Antonio sports tradition that towers above all others, a game that brings together four generations of locals every November for neighborhood bragging rights.
In a sense, the modern, polite edition of the Chili Bowl is a sports anomaly. Great sports rivalries usually rely on equal portions of competitive history and mutual animosity.
For example, the Texas-Texas A&M series might derive its cultural gravitas from a football tradition that extends back more than a century, but its fire comes from the fact that Longhorns think of Aggies as provincial, cow-milking hayseeds and Aggies think of Longhorns as flag-burning freaks. Similarly, Joe Frazier and Muhammad Ali might have been the two best heavyweight boxers ever to meet in a high-stakes trilogy, but the real lure of the series was that Frazier viewed Ali as an egotistical pretty boy who needed to get that prettiness knocked off his mug, while Ali saw Frazier as a dim-witted tool of the white establishment.
The Chili Bowl, at least in its 2006 incarnation, is remarkably free of such hatred and venom. The annual high-school gridiron clash between Lanier and Fox Tech features two schools with too much in common for either of their partisans to deny. The two oldest high schools in the San Antonio Independent School District, Lanier and Fox Tech are overwhelmingly Latino, predominantly blue-collar, with vocational roots and a strong ROTC presence on campus.
Of course, there are minor differences. Lanier is very much a neighborhood school, a Westside institution across the street from the Guadalupe Community Center and just a couple of blocks up from Botello Food Store. Fox Tech represents the downtown area, not a neighborhood per se, and many of its kids are bused in from other parts of town.
But these distinctions seem small in the face of their similarities. You might hear the occasional Lanier or Fox Tech student blurt out a "they suck" gibe against their local rival, but when these student bodies stare each other down from opposite ends of Alamo Stadium, they know they're essentially looking at themselves in the mirror.
This game isn't about personal loathing or playoff implications (although the game has decided the District 28-4A championship two years in a row). It's a neighborhood-pride war, played out over a series of generations, and destined to forever remain unsettled. Family alliances formed when these teams first clashed in 1940, and in the days leading up to this year's game, the depth of those attachments is unmistakable.
At 7:45 a.m. on Friday, November 10, Lanier students and teachers gather in the school's mall for the first of two pep rallies that day. The mall is an undulating sea of blue. Most students wear blue T-shirts with proclamations such as "Flying High with West Side Pride" or "Twenty Ten to the End." The second-floor landing is decorated to resemble an old battleship dubbed "the Blue Pearl." A few students display blue streaks in their hair and some have even painted their faces blue.
Thomas Amaro, 14, is one of the students with a painted face. "It was my mom's idea," he says with a sheepish grin. He adds that the Chili Bowl "means everything. It's like war. It's all about rivalry."
Almost every muffled, distorted pronouncement that comes from the makeshift stage is completely indecipherable, but students dutifully respond to each indistinct microphone belch with more shrieks of excitement than you would have heard at a 1997 Backstreet Boys show.
Suddenly, without warning, Lanier's strange Voks mascot — a giddy mechanical gear who apparently loves high-school football — bounds across the stage with Gumby-esque grace, and the Lanier cheerleading squad responds with a double-dare-ya-to-make-noise chant probably as old as the Chili Bowl itself.
"We've got spirit, yes we do! We've got spirit, how 'bout you?"
Five minutes away from the Lanier campus, the Fox Tech band runs through a morning rehearsal for the school's annual pre-Chili-Bowl march on City Hall. All week, school receptionists have answered the phone with the following greeting: "Fox Tech beat Lanier." This morning, the school releases a week's worth of pent-up nervous energy with a long walk meant to affirm Fox Tech's place as the self-described "Pride of Downtown."
Students line up on Main Street decked out in red "Super Buffs" shirts. Smack in the center of the parade, a red Kia Sportage moves slowly enough for watchers to behold the stuffed buffalo strapped to the car's roof. Mothers line up along the parade route with their babies and cheer while shaking maracas. Even the staffers at Artpace, an artist-residency program based on North Main, briefly press their faces to office windows to get a glimpse of Fox Tech's elaborate tribute to itself.
"Basically, we're the two oldest schools in the city," says Orlando Lizcano, Lanier teacher and Chili Bowl coordinator. "That's where the rivalry came from. Starting out, they had to play each other. They are two Hispanic neighborhoods, and that's where the name of the game derived from."
Lizcano not only teaches at Lanier, but also had uncles who attended Fox Tech. He's well aware of the subtleties that separate the two schools.
"I think Lanier is more vocationally centered," he says. "It basically started off as a vocational school because in the post World War II era, the shops were here, and Hispanic people were not supposed to go to college. They were taught a trade to enter the labor force, as opposed to going to college.
"I think Fox Tech was similar, but it was more of a technical school over there. They were more into armature and motoring and wiring and welding, and we were more into the manufacturing part of it."
Jay Tope, senior editor for SAsports.com, believes the Chili Bowl owes much of its power to the strong sense of neighborhood identification attached to the two schools.
"A lot of people that went to Lanier over the years still live in the area, and if they don't live in the area, they still hold a great interest in their school. That's true for Fox Tech as well," Tope says. "You just don't see that too often. In some of the other schools, you go there and move on, and there's not a sense of returning back to that high-school spirit. Lanier and Fox Tech are unique to SAISD. You look at Edison or Sam Houston, they wouldn't draw those kinds of crowds."
click to enlarge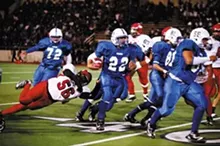 Lanier running back Michael Rodriguez finds a hole in the Fox Tech defense.
An hour before the 7:30 p.m. kickoff at Alamo Stadium, the closest available parking is at the San Antonio Zoo, and even that lot is nearing capacity.
Lanier is the designated home team for this year's game, and, fittingly, their partisans occupy the stadium's west-side stands.
Both teams enter the game with only one district loss, and playoff berths already sealed. Lanier clinched the 2005 district title with a 14-6 win over Fox Tech, and the Voks have won two of the last three meetings between the schools.
That might explain why one Lanier student confidently boasts before the game, "We always kick their ass." But the history of the series overwhelmingly favors Fox Tech, which enters the game with a record of 38-20-5 against its biggest rival. As with any long series, the Chili Bowl has featured long stretches of dominance by one team, followed by sudden shifts in fate. Fox Tech won 14 of 18 games between 1943 and 1960, then came up empty for more than a decade. In the early '70s, Fox Tech reasserted itself and the series has leveled out in recent years.
As fans settle in on a cold Saturday night, Tejano music blasts from the P.A. speakers. Every announcement or cheer sends boosters into fits of euphoria. The mere mention that Fox Tech has won the opening coin toss is greeted by screams from Buffs fans. When the announcement is made that Fox Tech will defer the option in the first half and Lanier will receive the opening kickoff, Lanier's blue wave responds as if they've already won the game.
As the opening kickoff approaches, the Lanier players clasp each other's hands along the sidelines, rock gently from side to side, and engage in a mantra familiar to baseball fans as the Atlanta Braves' tomahawk-chop chant.
If there's an X-factor in this year's game, it's Fox Tech quarterback Sammy Rivas, a wiry, hollow-cheeked senior with a sure passing touch and the kind of poise you'd expect from a four-year starter. Rivas and running back Iveness Shelton waste no time in challenging Lanier's inconsistent defense. Lanier's cheerleaders suggest a solution:
"Push 'em back, pull 'em back, way, way, way back!"
With 5:56 left in the first quarter, Shelton bulls his way into the end zone from seven yards out, and Fox Tech takes a 6-0 lead. Again, Lanier's cheerleaders offer a plan:
"S-C-O-R-E, score Voks score!"
Early in the game, it becomes obvious that Lanier quarterback Arthur Gomez will be unable to mount any kind of passing attack against the Buffaloes, but as the first half progresses, Lanier's power running game begins to assert itself. At the beginning of the second quarter, Lanier's Juan Rodriguez kicks a 33-yard field goal to narrow the deficit to 6-3.
Later in the second quarter, Lanier's cheerleaders demonstrate that even a timeout can be a cause for exhortation:
"Talk it over, big blue, talk it over!"
As Lanier mounts a late-second-quarter drive that results in a game-tying field goal, the school's cheerleaders begin to apply a little psychological pressure on their heroes:
"Hey big blue, we're depending on you!"
Near the sidelines, Sonia Solt, Lanier English teacher and pep-squad sponsor, looks up at the impressive Lanier crowd, which makes up a clear majority of the 14,100 fans in attendance.
"It's the pride of the West Side," says Solt, who has taught at both schools. She glances at the pep squad and adds, with considerable understatement, "It's very unusual to have a Vok as a mascot. No one knows what it is. It's a hard sell."
Jacob Guerra, 14, is a freshman with the Lanier junior-varsity football team. Dressed in street clothes, he paces the Lanier sidelines and often turns toward the crowd to egg them on. "The Chili Bowl means tradition," he says at the end of the first half. "My family went to Lanier, so Lanier just runs in my blood.
"There really isn't a big difference `between the schools`. It's just the fact that we all come out to support each other. We're proud that we're all Hispanics. It's a family thing. Having everybody together is very important to both Lanier and Tech."
On the opposite side of the stadium, Emily Zamora, an 18-year-old Fox Tech graduate, is less generous about her school's adversary. When asked if she dislikes Lanier, she responds, "Hell, yeah. Because they suck. They're on the West Side."
Cedric Petersen is an academic dean at Fox Tech who moved to San Antonio from his native New York. "This game really brings the community together," he says. "I think it's that the game goes back so far. A lot of the parents and grandparents were part of the game. Those folks have long memories. They keep it going."
Late in the third quarter, Lanier grinds out a long drive toward the north end zone. Near the east corner of the end zone, the Fox Tech drumline forms a semi-circle and creates a percussive groove, as the Fox Tech mascot — an impossibly demonic looking Buffalo — shimmies with delight.
Early in the fourth quarter, with Lanier leading 13-6, Fox Tech's cheerleaders twice attempt to get their fans to start the wave. Both times, only a few ardent supporters lift their arms, and the whole thing dies out in a matter of seconds.
With less than 10 minutes left, Lanier back Michael Rodriguez escapes around the right end for 23 yards down to the Fox Tech 10. The run sets up Juan Rodriguez's third field goal of the night, and with 7:44 to play, Lanier holds an imposing 16-6 lead.
For nearly three quarters, Fox Tech's offense has been stymied, but with time in short supply, Rivas engineers a hurry-up drive and hits Raul Takahashi with a beautiful 34-yard touchdown strike. With five minutes to go, Lanier leads 16-13.
This is where Lanier's shortcomings manifest themselves. With no passing game to speak of, Lanier opts for a conservative strategy that no longer works against a rejuvenated Buffaloes defense.
You can almost feel the energy sapping out of the Lanier team as they draw back-to-back illegal procedure and offside penalties, leaving the offense with a near-hopeless third-and-18 play. Lanier Head Coach Don Gatian opts for a safe, off-tackle running play, and his team is forced to punt.
Fox Tech takes over at the Lanier 44 and Shelton immediately breaks loose for 15 yards. With 1:44 left, Rivas again hits Takahashi with a perfect strike and Fox Tech takes a 20-16 lead.
The soft-spoken Rivas yanks off his helmet and lifts his hands skyward, imploring the Fox Tech partisans to make noise. Seconds later, Fox Tech's Cornelius Jackson, a receiver/defensive back who spent most of the fourth quarter writhing in pain on the bench with a leg injury, steps in front of Arthur Gomez's last desperation heave for a game-clinching interception. His teammates exuberantly pat him on the back, but he impassively heads straight for the bench, plops himself down, and asks for water.
click to enlarge
Defense dominated the Chili Bowl until the fourth quarter.
A late touchdown run by Shelton completes a remarkable comeback, with Fox Tech winning by a 26-16 score. Lanier's sea of fans are silent and stunned. Fox Tech's players mob each other in the middle of the field, while Fox Tech Principal Nancy York waves the silver Chili Bowl trophy in front of the east bench.
The entire Fox Tech team then embarks on a victory lap around the stadium, shaking hands with supporters pressed against the front rows of the stands.
"It feels good coming out on top as a senior," Rivas solemnly says. "That could be anybody's dream right there."
Considering the storied rivalry game which he has played in for the last time, he pauses for a second, then says: "The adrenaline is great. There's the tradition, and it's real awesome. Your heart's just pumping so fast for the whole game."