click to enlarge
Houston Bernard: out of the closet, and into our hearts

Urban cowboy
By Gilbert Garcia

Houston Bernard wants to be your favorite bi-porn electro-rock rapper
Houston Bernard doesn't like to think of himself as a fringe artist. Granted, you're not hearing many bisexual, electroclash porn performers on the radio these days, but Bernard thinks he can carry his cock-strutting niche to the masses.
"I want to work with a label, but most of them are afraid to touch me," says the Brooklyn-based, Oklahoma-born Bernard. "I've talked to people at places like Tommy Boy, and they're interested, but they don't have a single that they can promote. All my stuff is like: 'Shove it in your mouth, pump it in my ass.' But if you listen to the songs, there are still good hooks. There's everything that you'd want in a good song."
Even by the gloriously campy standards of the New York dance-club scene, Bernard has been a ringer, working the stage in a John Deere cap, muscle shirt and tight, bulge-exposing leather pants, wielding an electric guitar and whipped-cream canister with an equal sense of menace, while female dancers in skimpy nurses' uniforms make their rounds. Before long, he's liable to strip down to a pair of pink briefs and and parade his glory for all to see.
click to enlarge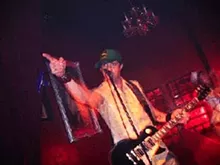 If Kid Rock had dared to take his redneck rap to its most extreme conclusion, connecting with the dance music subculture and presenting himself as an equal-opportunity sex machine, he might hint at what Bernard is up to.

Raised by his mother in Worcester, Massachusetts, Bernard spent years playing guitar for hard-rock cover bands in an endless succession of New England bars. When he bothered to write his own songs, they were - by his own estimation - hackneyed Brian Adams-type tunes. He eventually joined the Army, following in the mold of his father and brother, and "got in trouble all the time."

A few years ago, at the urging of his high-school friend Kaz Gamble (who currently creates beats for Bernard's music), he checked out the then-nascent Brooklyn electroclash scene and felt like he'd found a home.

"I thought, 'This is incredible stuff,'" Bernard recalls. "The vibe was great, the music was great, the freedom was great. It's all about feeling completely free.

click to enlarge



"Then I just brought my own personality and artistry to the music. In the music, I started talking about my escapades. All about my escapades in back rooms in New York. It's a phase I was going through at the time, but I couldn't get enough. So I put it into music."

Bernard's "escapades" must have been action-packed, because they've inspired a whole catalog of party-in-your-pants anthems, including such classics as "Ride It Cowboy" and "Str8 Actin.'" In the latter song, he defines himself this way: "I'm a straight-actin' huge-dick faggot."

Touring behind the self-released EP, We Love Houston, Bernard alternately scandalizes and delights, never failing to find at least a pocket of Dionysians ready to get their collective freak on.

"I just played in Shreveport, Louisiana, and you'd think that was really conservative, but I played for a crowd that was very liberal," he says. "They loved it. They were screaming, 'show me your cock' the whole time. That was kind of fun. And I got my first bra thrown at me. Some people don't want to deny their sexuality. And some people are stuck to the rules they've been given instead of finding their own way."

Bernard's music isn't hip-hop, though he often raps. It isn't rock, though he plays a mean guitar riff. It's not quite techno either, though it incorporates electronic beats. It's a style that's symptomatic of an era when all genres overlap and fold into each other - when the coolest sound wins.

Atarika:
Houston Bernard

9pm
Thursday, May 20
$7
Sin 13
1902 McCullough
320-6859
℘

"When I play venues, I don't play just the electroclash place, 'cause it's a very small subgenre of an electro genre," he says. "I could go into a hip-hop club, do a couple of songs, and be accepted. I have done it. Goth, fetish, gay, electro, punk. I've even opened up for a country band in an art bar in San Francisco.

"I try to bring everything that I love about music in there. There's a lot of good guitars. There's good beats, good melodies and harmonies. That's why all the songs are different. I'm even growing when it comes to topics. It's really pornographic right now, because that's what I was into. But now I'm moving into something different."

Bernard is coming to Sin 13, as part of that club's year-old Atarika series, a monthly showcase for national artists connected to the electroclash scene. In homage to his father, a military man and accomplished musician who Bernard only became acquainted with in recent years, he's beginning and ending his tour in Oklahoma, the home base for his father's family.

"People either love it or hate it," Bernard says of his shows. "There are gay guys and straight or bi girls who think it's hot. Then there are straight guys who think it's funny. They don't necessarily get turned on by it, they enjoy the sexuality and how it's funny. It's not really about me anymore. Now it's more about me communicating and having people enjoy themselves. I just like to bring a party." •