click to enlarge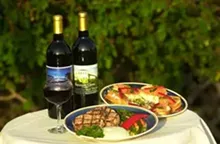 The Vineyards Restaurant at Garden Ridge has its own wine, as well as this smoked pork loin dish, and smoked salmon appetizer. (Photo by Alicia Wagner Calzada)


Value Vino
By Ron Bechtol

Faux Fancy

value vino great wines for under $15

Welcome to Value Vino, a monthly column for both wannabe wine lovers and "already aficionados" with an irreverent streak. For starters, we'll peg the value cap at $15, but don't be surprised if we exceed that on occasion; $19.99 stunners (and above) won't be shunned if they offer bang for the buck. And at the other end of the spectrum, a good box wine - assuming we find one - would also be discussed seriously. Let us know what you'd like to have investigated, and we'll do the heavy glass-lifting for you, such is our dedication.

If irreverence is to be an occasional theme, there's no better place to start than with the wines of the inimitable Todd (a.k.a. Toad) Williams - a self-professed former saloon keeper who happens to be the brother of Robin Williams - of Toad Hollow Vineyards in Healdsburg, California. Although his impressive, all-stainless 2002 Mendocino Chardonnay, and his dust-dry (and rose-petal fragrant) Eye of the Toad Dry Pinot Noir Rosé would qualify under the price ceiling, we're going to go even lower to a line Toad is importing from France. Called Le Faux Frog, each of the three wines, chardonnay, merlot, and syrah, can be found at Central Market for $8.49.

Value Vino

By Ron Bechtol
℘

Despite the name on the label, there's nothing faux about the wines in the bottle. Produced in the Languedoc region of southwest France, an area only recently thought of as capable of yielding fine wines, these varietals show more than promise - especially the chardonnay. Normally, and especially with Californian and Australian products, I'm a card-carrying member of the ABC (Anything But Chardonnay) club, so it must be the whole-cluster pressing and cold fermenting that gives Toad's 2001 chard such freshness. There are aromas and flavors of fig, almond, melon, mango ... or just plain juicy fruit. Neither big and oaky, nor light and annoyingly acidic, this is a Goldilocks wine: just right (at the price) and food-friendly.

click to enlarge
Bluebonnets dot the landscape at the Vineyards. (Photo by Alicia Wagner Calzada)


Usually, I'm also in favor of ABM (in this case, Anything But Merlot) treaties, especially at the under-$15 level. Soft and pillowy is one way of describing some of them - and those are the good ones. Defying expectations, Faux Frog's 2000 vintage starts with light, smoky aromas that suggest cassis, then graduates to tastes of cherry, maybe plum. (Nothing hits you over the head, so again feel free to free-associate.) This merlot very approachable in ways California vintners generally seem to have ignored. It's not profound, but it can claim a degree of elegance. Surprisingly, as it doesn't come across as tannic, this wine seemed better after a day under vacuum. All the same flavors were there; they were just ratcheted up a notch or two.

Syrah, also called shiraz in Australia, is the current darling of red wine marketers and for good reason: It characteristically exhibits big, bold, spicy flavors. Faux Frog's Apropos 2001 back label claims a "rich, deep, dark, and dense wine," with which I have to disagree. That description might have been apropos of a previous vintage, but not this one. Relatively low in alcohol (13 percent) by syrah standards, it is more elegant than rich, more ruby-hued than dark, and lighter than it is dense. There's compensating complexity to spare in the form of cedar, black cherry, and mint on the "nose" and more dark fruit on the palate. But no typical pepper, and no forward spice, and if that's what you want, you've been warned. Lighten up; the wine did. •

Value Vino will run the third Thursday of every month.