The Current investigates April's bountiful art buffet
click to enlarge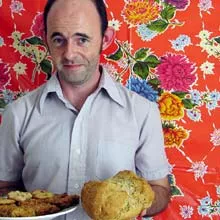 Lynn McCabe's pot_luck (top left), on view at Cactus Bra, juxtaposes the urges behind art, food, and assigned values through the pot-luck dinner tradition.














click to enlarge
Luis Valderas' graphic-inspired work, which draws on Aztec and Mayan imagery, was included in Latino Expressions II: Artistas de San Antonio, at the Downtown Library.














click to enlarge
A woven geometric portrait by Jamie Rivera, a cabinetmaker from Guanajuato, Mexico, who studies weaving at the Southwest School of Art & Craft, is on display through June 5 as part of the All School Exhibition.
















T
he theme for this week, kids, is
smorgasbord
. Not only is it fun to say, but it's a wonderful concept. I draw my inspiration from
Cactus Bra
's April show
pot_luck
by artist
Lynn McCabe
(106C Blue Star, 226-6688). In her lovely Scottish brogue, she told me that potlucks just don't happen in Europe. San Antonio's art community, however, has made them a staple.
Now living in Houston, McCabe asked her friends to come to her house and bring either a food dish or a piece of homemade art. She then put the results on film and the remnants on view at Cactus Bra. The show is about juxtaposing art and food together in such a way that luxury and need are exposed. The artist wants to get us out of the art market and into the supermarket as we investigate new paradigms of value. Attendees are asked to bring a canned good which the artist will donate to a local food bank at the show's close, which is April 23, so you can't procrastinate on this yummy morsel.
The Central Branch of the San Antonio Public Library (600 Soledad, 207-2500) is really a decadent place, exuberant on the outside and chock full of good things on the inside. You can check out a foreign film, a book on horticulture, and visit the art gallery all in the same trip. Currently the gallery features Latino Expressions II: Artistas de San Antonio, which is a true smorgasbord of work by some of San Antonio's most respected artists, including Vincent Valdez, Juan Ramos, Joe Lopez of Gallista Gallery, Ricky Armendariz, and Cesar Martinez.
The show provides something for everyone's palette, with media and styles running a wide gamut: modernist minimalism, bold expressionism, and abstract and figurative work. Some of the art appears to be by either young or self-taught artists, conditions that lend a patina of folk art. Traditional themes are well-represented, painting a self-reflective portrait of Latino culture through images of Catholic Communion, Mexican wrestlers, shared meals, and even the chupacabra.
Jesse Amado shows a captivating work done simply with paper and feathers, while Andy Benavides revamps a found object in "Dormido." Both artists' pieces feel like a ballet of surrealism and minimalism.
The works were scheduled to be auctioned off on April 17 to raise money for SAPL's future Latino Resource Center. Regrettably, the show wasn't on view long. The gallery's next opening, on April 21, will feature Peggy Kelsey, founder of the Afghan Women's Project, and her portrait series that has been touring the country.
Across the street, the Southwest School of Art & Craft's juried All School Exhibition (300 Augusta, 224-1848) is a good way to pull back the curtain and see what students are doing in the various classrooms. Op-art loom weavings mingle with prints, jewelry, photography, paper and book arts, sculpture, and painting. Students and faculty both brought something good to the table.
Eric Vincent Reyna's "No. 8" depicts a spinal column in a box. Made out of thin pieces of wood like an architectural model and placed in a narrow, upended desk drawer, it could even be a fabulous portrait of Frida Kahlo.
Liz Petrasovic's "Gone Fishin'" is a little gem. The smallish cube affixed to the wall draws you in with its brilliant green color. Next you see it packs a lot of political satire into a tiny space with George W. Bush, the Scarecrow from the Wizard of Oz, tiny sheep falling over a precipice, and soldiers guarding miniature gas pumps. You just can't take your eyes off of it.
Now, please pass the gravy. •