When the City and SARA finally begin renovating the northern part of the river next year, they say they'll have the locals in mind
Editor's Note: This is the second part of a two-part series about San Antonio River restoration projects. Last week, in "Mission Control," Lisa Sorg explored planned improvements to the Mission Reach, which extends from Lone Star Boulevard to Mission Espada.
click to enlarge
Taco Land's graffitied wall and gorgeous Live Oak tree are visible through the brush just north of the Grayson Street bridge.
(Photos by Mark Greenberg)
Taco Land's uneven patio is beloved for the Live Oak tree whose massive trunk squeezes through the cracked cement and propels its thick branches past the door, down to the river below. Its cathedral-like canopy arcs over bar patrons who sit on the long cement bench and launch or carelessly drop beer cans and cigarette butts to the bank. The homeless and poor pick up the aluminum for recycling and leave the rest to the dark gray mud.
The river itself is a listless backdrop to this nighttime and wee-hour activity, its turbid water seemingly resigned to a life of neglect and poverty. It is hard to believe that this brush-choked trash can is the same river that curves extravagantly through Brackenridge Park to the north, and glides in landscaped repose past the King William home of H-E-B magnate Charles Butt to the south.
Click the box to see a full map of the Urban Segment of the Museum Reach Project, from the Hugman Dam to the Turning Basin
But if Gayle Spencer and Sally Buchanan, the executive director and board president of the San Antonio River Foundation, are successful, this stretch of the river, from Josephine Street near Highway 281 to Lexington Avenue downtown - known as the Urban Segment of the Museum Reach - will look like King William's verdant urban retreat: landscaped paths winding along the shore past a grotto, a small wetlands, and landing platforms for the river barges that will sail as far north as Grayson Street, where a turning basin will provide a frog's-eye view of the Pearl Brewery development. Just north of Brooklyn Avenue, boats will negotiate the riverbed's change in elevation through a lock and dam system, and at Roy Smith Street, which currently trails off in weeds, footings designed to echo the towers of the San Antonio Museum of Art will anchor a metal suspension footbridge salvaged from the old Lone Star Brewery. The re-made river will follow its natural contours, but green banks will conceal cement bulwarks lining a perfectly sculpted channel; the riverbottom will be divided between a natural mud basin for fish and a submerged gravel road for maintenance vehicles.
The San Antonio River Authority is overseeing the Museum Reach project, named for the two museums, SAMA and the Witte, within its parameters. This undertaking is part of the larger $170 million San Antonio River Improvements Project, which includes restoration and improvements to the Mission Reach and the Eagleland segment just south of King William, and repairs and improvements to the Downtown Reach.
Spencer and Buchanan emphasize that King William, not downtown, is the model for this section of the river which, when complete, will be the final link in a linear park running from near the river's source at University of the Incarnate Word to Mission Espada, with a relatively brief detour in the restaurant-infested bend of the River Walk proper. "My feeling is that if you do not build it for the locals, the tourists aren't interested," says Buchanan. As we sit visiting outside SARA's King William offices, recent SARA board candidate Sonny Collins jogs by and stops to chat briefly with Buchanan. When he leaves, Spencer beams. "That's exactly what will start to happen in the Museum Reach when it's complete." Neighbors will reconnect with one another, and neighborhoods severed by the river and highways will be sutured together to form a stronger whole.
click to enlarge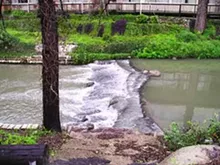 Hugman Dam, named for the River Walk architect, is the last scenic spot on the northern end of the downtown San Antonio River.
(Photo by Elaine Wolff)
Work crews will move some 50,000 cubic yards of earth during the Urban Segment construction. That amount would have been significantly larger had the design called for creating a level river that a barge could traverse without a lock and dam. Some opponents of the approved plan, such as San Antonio World Trade Center President Josef Seiterle, are against the lock and dam system because it adds up to 15 minutes to the trip, making it impractical to use the boats as a water taxi system.
"`The river channel` would be a canyon!" by the time it reached the Grayson Street turnaround, says Spencer, and it would be difficult, if not impossible, to incorporate pedestrian features. "Some people might `commute to work on the barge` for therapy," says Spencer.
"This is going to be more a relaxing, recreational tour."
"To me, the walking is the true key," adds Buchanan.
From final design to the last light installed, the Museum Reach project will take almost five years to complete and cost an estimated $30 million. Approximately $20 million, "what it takes to float a boat up a river," as SARA describes it, is committed from city and county funds. Construction is scheduled to begin in 2006. The modifications will provide some additional flood control - lowering the 100- and 8-year flood plains slightly - but because major improvements to prevent flooding along this stretch of the river, Olmos Dam and the three-mile River Tunnel that routes floodwater past downtown, were completed in previous projects, the Museum Reach does not qualify for U.S. Army Corps of Engineering funding. The remaining $10 million for everything else - sidewalks, handicap ramps, directional signs - must be raised from private funds. That's the River Foundation's job. Spencer and her team must also convince seven private property owners to relinquish a portion of their riverfront to accommodate landings, staircases and ramps, benches, signs, and public art.
click to enlarge
Rusting barrels sit on racks overlooking the river near the San Antonio Museum of Art.
(Photo by Julie Barnett)
Within the Museum Reach, the Urban Segment will be the most radically changed. The river that runs through Brackenridge Park has long felt the attention of human hands, but the Urban Segment, as befits its name, has become a habitat for barbed wire, mosquito-breeding tires, and ominous abandoned bits of clothing.
The northern reach of the River Walk ends somewhat abruptly at the Lexington Street bridge, across from the Clarion Hotel. From the final river barge landing, the low, scalloped edges of Hugman Dam, named for the River Walk's first principal architect and visionary, provide the last scenic view before the river gives way to encroaching vegetation and urban pollution. The signs are obscured by time, decay, and some redevelopment, but the river segment that runs from Hildebrand Avenue to Eighth Street was an early industrial corridor, supporting at various times a Civil War-era tannery, George Brackenridge's Water Works Company, the Butterkrust Factory on Broadway, the Pearl and Lone Star breweries that now flank I-35, and a book bindery on Avenue B.
These businesses and others used the river as a water source, a wastewater outlet, or simply turned their concrete-and-brick backs on its increasing pollution. And like most industrial American waterways, the Urban Segment was passed over by 20th-century aesthetic improvements. At the turn of the last century, Brackenridge sold his water utility and donated 199 acres for a park, augmented by lands from Emma Koehler, widow of Pearl Brewery founder Otto. While the park endured its own dark era, when hypodermic needles and used condoms were common artifacts along the wooded drives, the ongoing restoration and public art projects have reaffirmed its place as the inner-city's crown emerald. The River Road neighborhood, tucked away like a mistress in a lush apartment, butts up against Highway 281, the border at which the river ceases, for almost two miles, to belong to San Antonio's residents. The Tunnel Inlet park at Josephine Street is forbidding in the manner of totalitarian architecture, and a block later the river slinks past Taco Land, into an impenetrable overgrowth, toward downtown.
The Museum Reach Project

Who: San Antonio River Authority, San Antonio River Oversight Committee, San Antonio River Foundation, Bexar County, and the City of San Antonio

What: The Museum Reach Urban Segment Project will create a landscaped river channel similar to the King William stretch of the river from Lexington Avenue to Josephine Street. Barges will be able to travel as far north as a turnaround at Grayson Street, using a lock and dam just north of Brooklyn Avenue to traverse the change in elevation. Landscaped and signed paths will connect the downtown River Walk to Brackenridge Park.

When: The project is in its final design stage. Crews are surveying the river and drilling to confirm ground composition. Construction on the channel improvements are scheduled to start in early 2006, with public design enhancements such as sidewalks and lighting to be added as funds are raised. The entire project is scheduled for completion by early 2010.

How much: $30 million, which includes $10 million for design enhancements. Public art will cost an additional amount yet to be determined.

Who pays for what: City and County funds will pay for the $20 million channel improvements, the lock and dam, boat landings, and the Grayson Street barge turnaround. Private funds from foundations, businesses and individuals will pay for all design enhancements.

Where the money comes from: The City will contribute $12.4 million from the Capital Improvement Fund. County funds totaling $7.7 million will be drawn from the county flood tax. Donations and grants from private and public charitable organizations and individuals will contribute $10 million for design enhancements plus funds for public art. Individual property owners will be asked to donate small parcels of riverside property to accommodate sidewalks, entrances and exits, and water features.

More information: Visit the SARA website at sara-tx.org or contact Gayle Brennan Spencer at 224-2694.

Taco Land is emblematic of the Urban Segment's recent history. On the periphery of aging factory buildings and houses that seem to repel paint and lawns, the city's music scene has ebbed and flowed: Doomed punk rocker G.G. Allin played at the 1033 Club on Avenue B, a venue later operated as the Green Onion Club by the locally infamous Sons of Hercules; straying hearts hunted new prey at the SWC Club on Elmira; Taco Land outlasted them all with inexpensive beer and a stage open to established acts and newcomers alike. It's as if the Urban Segment has gone through its youthful grunge phase and will now be forced to mature into a Young Urban Professional, keeping time with those of us who spent many an evening under Taco Land's oak, but now think (with a twinge of ambivalence) how nice it would be to push a stroller from the park to Starbucks. As hotels, renovated houses, and residential developments replace parking lots, tear-downs, and undeveloped tracts, Taco Land could go the way of the Electric Lounge in Austin, the Music Capital of the World's finest low-rent venue, also in a forgotten corner by an underdeveloped waterway, pushed out in favor of high-priced condos and shops.
The golden cupolas of the old Pearl Brewery are easily visible from Taco Land's patio. During the day, bulldozers and construction crews are noisily renovating the old stables and the warehouse that will be occupied by a Culinary Institute of America campus. The property's owner, Rio Perla, a subsidiary of Kit Goldsbury's Silver Ventures, is coy about plans for the rest of the 22-acre project, which include an Aveda Institute, but rumors abound about hotels, condos, and shops. Rio Perla is one of several developers and prospectors who will likely benefit from increased property values and demand for housing spurred by the river improvements. The Museum Reach plans call for a turning basin to be constructed adjacent to Pearl, with a cascading waterfall on the opposite bank where Myrtle Street dead ends in an ugly jumble of eroding asphalt and opportunistic weeds.
But project director Bill Shown says that the economic benefits are likely to be indirect. "For what it's worth, we see the turnaround as being primarily an aesthetic amendment." Silver Ventures also has investments on Houston Street, but downtown businesses off of the River Walk have struggled, he says. "Getting our tourists up off the river, even to Houston Street, has been difficult." Nonetheless Rio Perla is consulting on the turnaround design with Ford Powell Carson, the principal architects for the Museum Reach, and Shown believes that the new linear park will draw residents who will bike, jog, and stroll for pleasure and exercise.
Other property owners are less circumspect. "One of the classic models of economic development suggests that public improvement dollars need to lead the way," says San Antonio native James Lifshutz, who owns a wooded, triangular lot adjacent to SAMA and the river, and is developing the Big Tex property in the Eagleland segment immediately south of Blue Star. Also a member of the River Foundation Board, Lifshutz may leave one of the most lasting impressions on San Antonio's urban waterway. He says that developing the Urban Segment is smart infill development. "When I think about great cities around the world, I often think of the great parks that define them." San Antonio aspires to be a great city, he says, which means building a memorable park. "Our river is that."
click to enlarge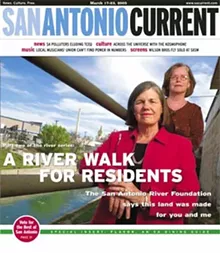 Marion Oettinger is the interim director of the San Antonio Museum of Art, which is completing a new Asian Wing addition to the historic Lone Star Brewery property it occupies. "There is a critical mass developing, and that you can sort of sense," says Oettinger, "a lot of things going on that seem to enhance public life." SAMA has added to its original grounds in the past few years, purchasing riverside property that stretches almost as far south as Ninth Street. "Even if `property adjacent to the linear park` is privately held, at least it's beautiful. You can walk and ride your bike there." And, according to the proposed plans, disembark at one of three landings close to the museum. The planned Roy Smith Street pedestrian bridge will also deposit walkers just north of the museum grounds, where sculptures by Burdette Parks and David Deming stand in contrast to the rusty barrels across the river.
The museum is considering several options for its territory, including an enlarged outdoor sculpture garden that could even include - with City approval - some water-placed sculpture, but there are no immediate plans to build new structures. "We've got two historic buildings that are still unattended to," notes Oettinger, but the surrounding grounds provide a buffer for the museum. "San Antonio development is so weird, and we wanted to make sure we had a periphery that would provide for protection and eventually for future growth."
With 15 acres, including 900 square feet of riverfront property, SAMA will be one of the most influential developers in the Urban Segment. Other major players, in addition to Pearl and Lifshutz, are the San Antonio Housing Authority, and George Geis, whose partially completed, mixed-use Broadway development has been worrisomely quiet for several months. Geis, who owns seven lots that front the Urban Segment, could significantly shape the identity of this area of the river - if he ever gets back to work. Geis did not respond to repeated interview requests, but District 1 Councilman Roger Flores, whose area encompasses the Urban Segment says, "He's having trouble with his contractor. It's between businessmen; there's nothing anybody else can do."
click to enlarge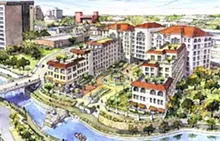 In 2006, the San Antonio Housing Authority will enter the final planning stages for the Rex, a 200-unit, mixed-use, mixed-income development that will overlook the lock and dam at Brooklyn Avenue. The $15 million project is a European plaza design with Southwestern touches, says SAHA Executive Director Henry Alvarez. "We think it's a very exciting riverfront development."


Geis' Broadway property is scheduled to include affordable condos with river access, a key to spurring further downtown growth, says Flores. "For a long time, the downtown area has suffered from a chicken or the egg question." Potential and current residents wonder when they will get a grocery store. Developers say, Nobody lives down there.
If we build it, they might not come. "What happens first?" Flores asks. "That's kind of what drove the downturn in the downtown economy.
"I think it's essential for us to begin to build downtown residences where families can live," Flores adds. While Geis' riverside lots sit undeveloped and the beams of his Broadway structure provide housing for pigeons, the San Antonio Housing Authority is moving ahead with plans to build a new and improved version of the demolished Rex Apartments that stood at the intersection of North St. Mary's, Brooklyn, and the river. Lifshutz is one of the developers for the mixed-use, mixed-income project. The architect's rendering of the planned 200-unit Rex looks like a palace fit for Uday: Trees bloom on rooftops, and the front lawn terraces down to the river, past a fountain, to an overlook on the planned lock and dam.
The Rex won't begin taking deposits for awhile, but some potential SAHA customers have already moved in. On a drizzly Sunday morning, the corner of a brown pegged tarp protrudes from the palm trees on the shore, concealed from the Brooklyn Street bridge, but visible from the opposite bank. A week earlier, a tent, complete with rain foyer, was its neighbor. It's a romantic spot, with a variety of trees and water lilies, except for the pile of cat-food cans, abandoned sleeping pallets, and clothing strewn along the edge, a reminder that many species - birds, raccoons, and humans - thrive in the neglected corners of the inner city.
click to enlarge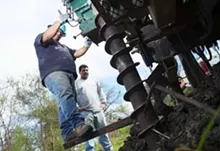 A two-man crew from Alpha & Omega Drilling pulls core samples from a lot at the corner of Ninth Street and Arden Grove. Project engineers have a pretty good idea what the ground composition is like, says Arias & Associates' Scott Condit, but they need to verify before they begin construction.


Upriver two blocks, Joe Nicholson has shared his property line with the old home of the 1033 Club and the Green Onion for more than two decades. His three-unit futuristic apartment complex is sided with corrugated metal, and bubble windows protrude like astronaut helmets, commanding a panoramic view. The effect is of a space-age knight, hunkered in for the long haul. "I lived there for myself for awhile and really did love it," says Nicholson, who's been a landlord to SAMA's former director George Neubert, among others. "It's like Soho in the front, and the Hill Country in back." If you ignore the detritus and activity of the homeless who camp on the river below, that is. "From my window I could see that they had fires, but it never bothered me." Nicholson says that the building has been an economic loss for him, but when the river improvements are finished, he will probably landscape the area behind his building. He's not holding his breath. "I built that in 1981 thinking that the river would be beautified in a year or two, and here we are in 2005."
2010, the proposed completion date for the Museum Reach project, doesn't sound so far away to Spencer and Buchanan, who must secure property donations and raise at least $10 million for the amenities. That price tag doesn't include planned public art features, either, such as an art wall near the SAHA property and design enhancements for the pedestrian overlook at the lock and dam. The public art subcommittee of the River Foundation will soon issue a request for proposals for a master plan. When a planner is hired and a design completed, Spencer's job will expand. The San Antonio Conservation Society recently pledged $10,000 towards the installation of the Roy Smith bridge, and in January Spencer sent the first round of grant requests to private and public foundations. In July, after the property surveys are complete and cross-checked, the River Foundation will ask landowners such as Geis and Pearl to donate small lots.
When it comes to large private donations, Buchanan echoes Flores' observation: "It's like chickens and eggs. It takes nerve to go first." But Buchanan and Spencer approach their task with the pleasant intransigence of Bartleby the Scrivener. They appear to be the true heirs of the Conservation Society members who thwarted an early 20th-century proposal to pave over the downtown portion of the river with, among other efforts, a puppet show for City Council.
click to enlarge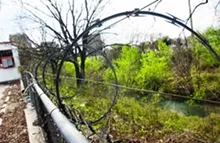 Vacant lots and forbidding fences, like this one near the Ninth Street bridge, characterize much of the Urban Segment of the San Antonio River. "For a long time, the downtown area has suffered from a chicken or the egg question," says District 1 Councilman Roger Flores. "That's kind of what drove the downturn in the downtown economy."


Lifshutz is also optimistic about raising the funds. "It'll be a challenge, but there are few things that people in San Antonio love more than our river." And there are few things that large donors love more than naming opportunities; Spencer coyly reminds me that there will be many such opportunities in the Museum Reach project. Perhaps a Bernard Lifshutz Art Wall, a Goldsbury pocket park, or a Lowry Mays Clear Channel.
Groundbreaking is scheduled for early next year, but behind-the-scenes preparatory work is already underway. Last Thursday, a two-man crew from Alpha & Omega Drilling was pulling core samples just north of SAHA's Rex site for Scott Condit of Arias & Associates. The giant drill forced up curds of blue-gray clay from deep in the ground. "That's blue shale," says Condit, "although it's not really a shale." In this area, he says, you usually hit blue shale at around 35 feet; it can run as deep as 300. The clay is warm and pliable from underground moisture and the friction of the drill, but as it cools it becomes a rock in my hand. That blue shale strata is what the project's heaviest features, such as the lock and dam, must rest upon. The drilling team attaches a two-and-a-half foot hollow metal shaft to the truck and a massive hammer taps it into the ground. It is extracted with a winch minutes later and Condit hammers it open to reveal a perfect glistening column of almost uniform clay. He breaks the core into pieces and places them in a plastic bag.
On the margins of this isolated commotion, life along the riverbanks continues more or less undisturbed. As dusk descends on a Wednesday evening, the patio light comes on at Taco Land, where a segment of the bench has collapsed and the barbeque pit is filled with an abandoned jacket. Slightly stooped, blue-haired patrons enter Turner's private bowling club on Ninth, carrying plastic bags filled with Tupperware. The parking lot across from SBC's McCullough building empties of its cars. A man in a green slicker slips under the Jones Street bridge. •
By Elaine Wolff